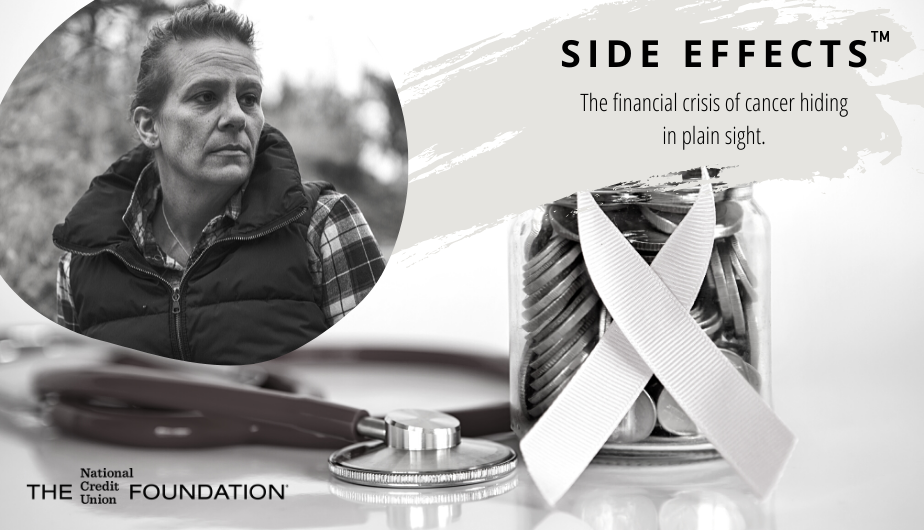 Side Effects™
The financial crisis of cancer hiding in plain sight and how credit unions can help.
Little research into the financial crisis of cancer has addressed the role financial institutions like credit unions can play. That's where Side Effects™ comes in.
Building on the Foundation's 2018 work that offered a model for credit unions and the healthcare system to work together, this series is a deeper dive to help credit unions understand this link, explored through a medical issue all of us have experienced in one form or another: cancer.
Introduction | 12,614 Miles

"On behalf of the National Credit Union Foundation, I'm honored to introduce you to some of the bravest, strongest, and most humble people I've ever known: Cancer patients who have endured overwhelming physical, emotional, and financial trauma."

Act 1 | Car Crash in the Living Room

The physical and psychological devastation of cancer is like that Chevy careening full-speed into your living room, annihilating your furniture and keepsakes and memories, before sputtering to a halt in the middle of what used to be your safe and secure home. Everything is broken. Nothing will be the same.

Act 2 | Stones + Hope

What would you hope your credit union would do for you and your family? While there are no easy answers to these questions, credit unions must ask and answer them responsibly, reasonably, and compassionately. Mission becomes legacy when we look beyond tiers and scores and see, with eyes and hearts wide open, a member's tears and scars.

Interlude | Lisa + Bernice

In the interlude, listen to two women whose financial lives were severely impacted by the crisis of cancer and how much it would help if financial institutions would take the time to listen to their members and customers and help meet them where they are in life.

Postscript: It is with sadness that we share that Lisa passed away on May 13, 2022. Our deepest sympathies are extended to her family and friends.

Act 3 | Here Right Now

In January 2018, what Elizabeth thought was a routine stomachache turned into an emergency room visit that led to the discovery of the softball-sized cancerous tumor blocking 95% of her colon, the full length of which was carved out a few weeks later. She was only 41 years old when she got the worst news of her life, and she's been fighting for it ever since.

Post Script: It is with profound sadness that we share the news that Elizabeth passed away on August 3, 2021. Our love and deepest sympathy go to her family.

Finale | Miles to Go

Where do we go from here? The end of this documentary must herald some transformation that proves the financial crisis of cancer matters enough for us to fix it.

Epilogue
Get in touch
For more information on Side Effects
Contact Gigi Hyland, Executive Director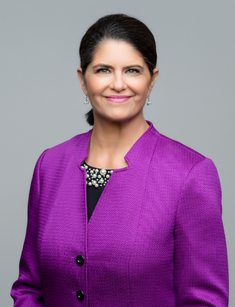 Gigi Hyland, CUDE
Executive Director
Gigi serves as the Executive Director for the Foundation, inspiring credit union professionals to collaborate and incorporate financial health and cooperative principles into their business strategy.