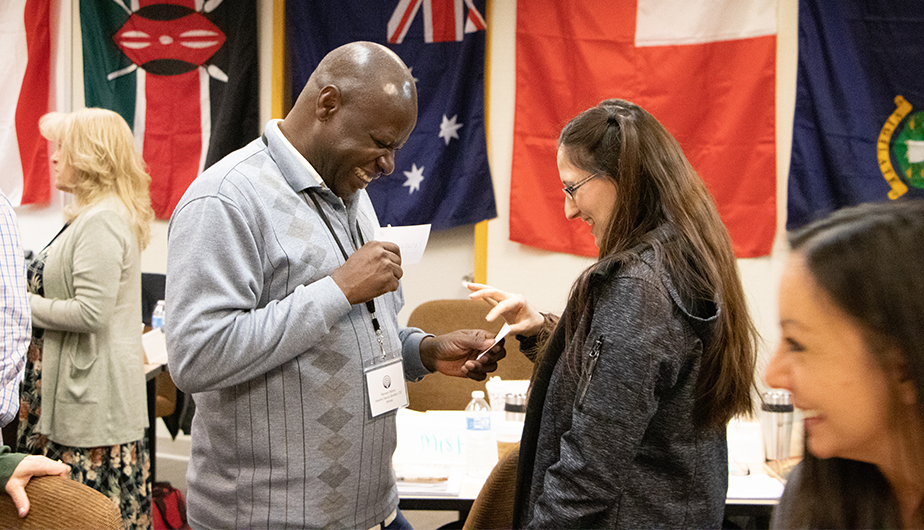 Credit Union Development Education (DE Program)
Transformative training opportunity for established and emerging credit union leaders.
Upcoming DE Trainings
Our upcoming 2020 DE Trainings are sold out. If you would like to be added to a waiting list, please contact Maggie Wolff at [email protected].
If you would like to receive updates regarding 2021 DE Trainings, email us at [email protected]
What is the DE Program?
The Credit Union Development Education (DE) Program is the signature program of the Foundation. The mission of the DE Program is to help established and emerging leaders within the credit union movement understand and leverage credit unions' unique business model to serve members and communities in new and better ways.
Since 1982, over 2,000 credit union advocates from 35 countries have attended the U.S. DE Training to earn their CUDE™ designation. Independent, international DE programs have spun off from the U.S. program. These programs have expanded the global DE alumni network to more than 4,500 individuals worldwide.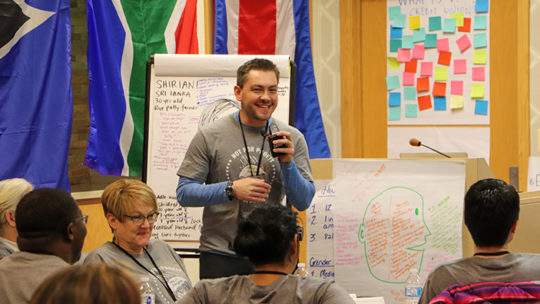 What is Development Education?
Development Education is a process dedicated to understanding fundamental barriers that prevent the prosperity of people and communities across the globe. The goal of this process is to encourage individuals and organizations to take actions that promote equity and sustainability for all.
The National Credit Union Foundation has long been a leader in promoting Development Education within the credit union system. The process of Development Education aligns with the mission of credit unions and our shared cooperative principles, and it has helped credit unions to discover new and better ways of serving members and communities.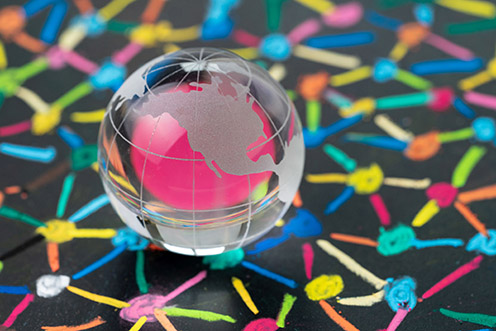 Who Should Attend?
DE Training is intended for emerging or established leaders from credit unions, system partners and organizations that support credit unions*. Employees from all organizational levels are eligible to attend – from c-suite, to MSRs, accounting or IT folks, marketers and board directors… all are encouraged to attend!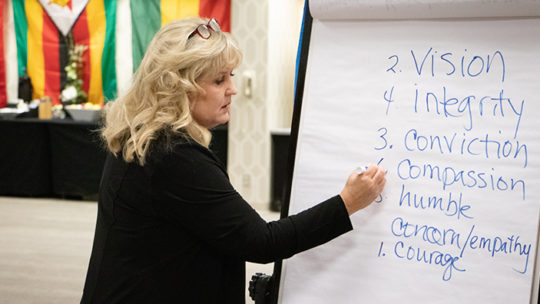 DE Learning Objectives
While many trainings focus on the "what" and "how" of credit union service and operations, the DE Program focuses on exploring the "why". High-level learning objectives include:
The Credit Union Difference: Understand how to communicate and leverage credit unions' unique business model and operating principles.
Development Issues: How to identify and solve for challenges that prevent the financial health and prosperity of the members and communities you serve. Learn more about the 12 Development Issues.
Empathy & Emotional Intelligence in Banking: How to live out our mission and values while creating a competitive advantage in the marketplace.
Upon completing the DE Program, participants earn their Credit Union Development Educator (CUDE) Designation which signifies a competency in understanding and applying Development Education within financial services. DE Alumni are also encouraged to complete a project within their credit union or community that applies DE Program lessons.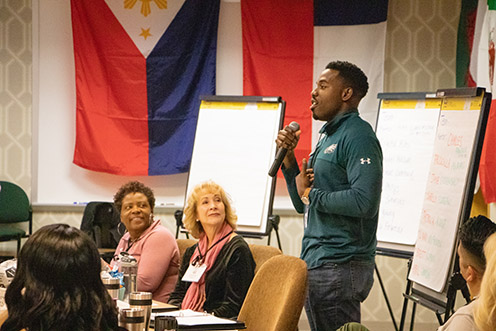 DE: Unlike Other Trainings
DE is a dynamic program where content is arranged to connect learning with experiences and application over the course of six days. It relies heavily on individual engagement, group work and a classroom that challenges participants to step outside of their comfort zones. To create this environment, we have the following rules:
Attendees must attend all DE Program sessions. Unless there is a health issue or family/personal emergency, we expect participants to attend all sessions in order to receive their CUDE designation. This is not a "pick and choose" event and attendees should not schedule meetings or maintain work connectivity during DE.
Titles are left at the door. All participants are asked to not reveal their titles when they arrive at DE Training. This creates a level playing field for group dynamics and allows everyone in the room to more easily look at problems and solutions from different angles.
No advanced copies of the agenda are shared. To ensure participants aren't looking too far ahead at lessons and activities, we do not share a detailed agenda prior to arriving at DE. Though the DE Program schedule can vary from class to class, participants can expect to remain busy from 8:00 a.m. to approximately 8:00 p.m. each day of training with plenty of breaks and meals along the way.
Registration is limited to one person per organization per class. Cooperative learning is at the forefront of DE Training. To optimize the learning environment, one person per organization can attend each session. This allows participants to learn from and engage with as many unique perspectives as possible.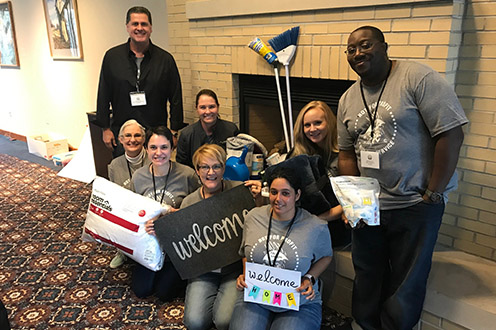 DE Training Scholarships
The National Credit Union Foundation is proud to support DE scholarships – provided by the DE Scholarship Fund – which offer full registration for individuals to attend one of the U.S. DE Programs in 2020. These scholarships are intended to provide leaders and emerging leaders from small credit unions and international DEs the opportunity to attend our program. Each scholarship covers a full DE Program registration as well as lodging and meals during the training. 
To be updated when scholarships for 2021 DE Trainings are available, email [email protected] to be added to our notification list. 
Inspiring Credit Union Leaders
We inspire credit union professionals to understand their "why" and to leverage the cooperative values and principles to improve their communities.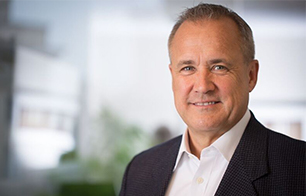 DE Training was well worth my personal investment of time and energy. As we work hard to advocate and build awareness for credit unions, it's critical that we take time to build our understanding and appreciation of the credit union difference so we can all share that message far and wide.

Jim Nussle, President/CEO of the Credit Union National Association
Want to Explore Your "Why"?
Using core lessons from the DE Program as a lens, Exploring Why™ Workshops provide experiential training that credit unions and system partners can use to help their employees connect to the credit union difference and discover new ways to drive greater value.
Learn about Exploring Why Workshops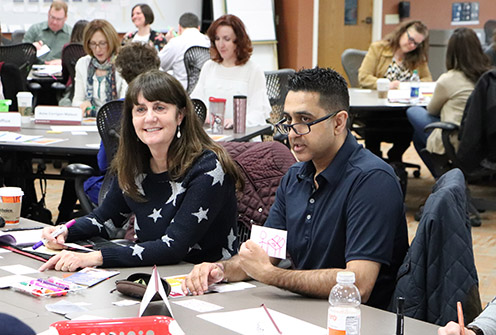 Get in touch
For more information on the DE Program
Contact Maggie Wolff, Development Education Manager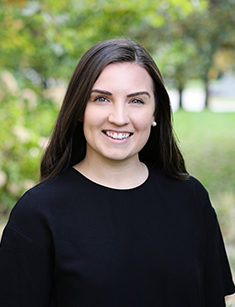 Maggie Wolff
Development Education Manager
Maggie works directly with the Director of DE & Cooperative Culture to coordinate and execute the Foundation's signature DE Program as well as managing DE Alumni relations.
Disclosures
*For non-credit union organizations: Individuals must be from an organization that has (1) a primary purpose to support credit unions or some element of the credit union movement, (2) a significant portion of its ownership, membership or customer base from the credit union system and (3) demonstrated a commitment to the purposes of the Foundation.
CUDE EVENT CANCELLATION POLICY
All cancellations must be received in writing. Please provide a brief explanation for the cancellation and submit via email to [email protected]. Cancellations received more than 30 days prior to the event are subject to a 25% administrative fee on the registration total. No refunds will be granted for cancellations received on or after 30 days prior to the event. Substitutions are accepted prior to the start of the program. Additional costs may apply. Please provide the CUDE training date, current participant name and new participant name to [email protected].