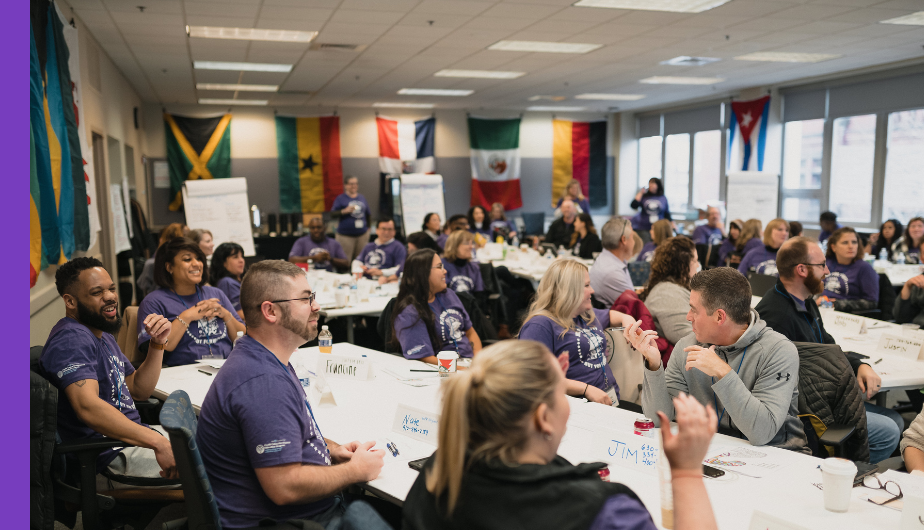 Development Education (DE) program
Transformative, experiential learning for credit unions and system partners
Putting the credit union difference into action
Since 1982, the Development Education (DE) program and its international alumni network has transformed the culture, strategy, outreach and impact of the credit union movement.
In 2024, the Foundation will host 4 in-person DE programs and 1 virtual DE program. Registration for ALL 2024 DE classes will be available at 1 PM CT on Wednesday, October 25. Registration runs on a first come, first serve basis. Payment is required to secure a seat in any class.
2024 In-Person DE
Registration Fee: $3,799
In-person DE participants should plan to travel to their DE location on Sunday before training and depart on the Saturday after training. Registration includes lodging and most meals. Participants will need to cover their travel and additional expenses.
To register for a 2024 in-person DE program, please follow the link(s) below:
February 5-9 at PSCU in St. Petersburg, FL
June 10-14 at the TruStage Lighthouse in Madison, WI
September 9-13 at the TruStage Lighthouse in Madison, WI
October 7-11 at the TruStage Lighthouse in Madison, WI
If you are registering as a placeholder, please follow the steps to register yourself and select the placeholder option when prompted. Placeholder seats can be transferred up to 3 weeks prior to the start of a session.
2024 Virtual DE
Registration Fee: $2,499
Virtual DE sessions will be held over the course of 4 weeks. Participants must be present on all dates to obtain their CUDE designation. Virtual DE is open to US participants only.
November 12-13 (1P-4P Central)
November 19-20 (1P-4P Central)
December 3-4 (1P-4P Central)
December 10-12 (1P-4P Central)
If you are registering as a placeholder, please follow the steps to register yourself and select the placeholder option when prompted. Placeholder seats can be transferred up to 3 weeks prior to the start of a session.
Through transformative education, immersive events and collaboration, DE builds awareness of the development issues that prevent people from achieving financial freedom—and how credit unions are uniquely positioned to address them.
More than 2,000 people from over 35 countries have graduated from the U.S. DE program since its launch in 1982.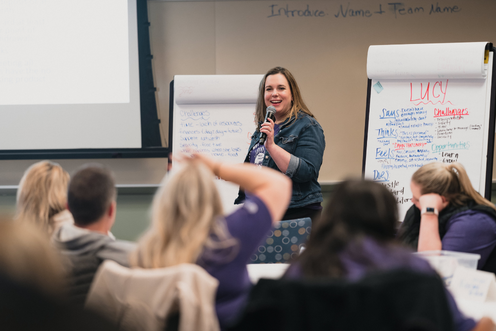 Align your impact and outputs with your mission and help improve financial well-being for all.
Top-level learning includes:
The Credit Union Difference: Understand how to communicate and leverage credit unions' unique business model and cooperative principles.
Empathy & emotional intelligence in banking: Create a competitive advantage in a disrupted market.
Development issues: Identify and solve challenges preventing the financial health of your employees, members and communities.
Graduates earn their Credit Union Development Educator (CUDE™) designation. This signifies a deep understanding of how credit unions can leverage the cooperative principles to overcome development issues and increase financial health.
DE is a dynamic program delivered through individual engagement, group work, classroom learning and immersive experiences.
To maximize your experience you must:
Attend every session. Unless there is a health issue or family/personal emergency, participants must attend all sessions. Attendees should not schedule meetings or maintain work connectivity during DE.
Leave your title at the door. DE is for everyone. Removing titles creates a level playing field and allows all participants to more easily look at problems and solutions from different angles.
Trust the process. No advanced copies of the agenda are shared. This ensures participants are present and not looking too far ahead at lessons and activities.
If you're employed within the credit union system and passionate about improving financial well-being for all, DE is for you.
Employees from all organizational levels, in any role or function, are eligible and encouraged to attend.
Cooperative learning is at the forefront of DE. To optimize the learning environment, registration for a DE class is limited to one person per organization. This allows participants to learn from and engage with as many unique perspectives as possible.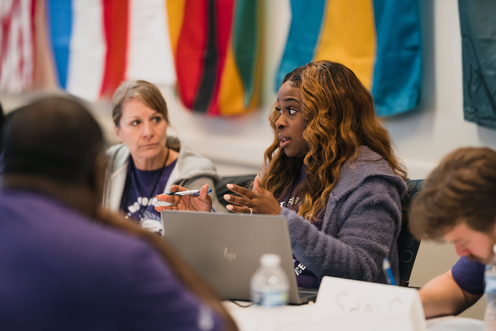 2024 DE Mentor Opportunities Available
As the DE program continues to grow, we are seeking DE Alumni who are interested in mentoring to complete this survey for 2024 programs. DE mentors make the DE experience special and unique – providing leadership and guidance to participants as they "Trust the Process" on their journey to earn their CUDE designation and become the BEST CLASS EVER!
To mentor at DE, you need to have earned your CUDE designation from the US DE program AND completed your DE project. The Mentor Interest Survey will remain open through EOD Friday, December 1.
SUBMIT YOUR INTEREST
The impact of DE
Over 2,500 people from dozens of countries have attended the U.S. DE program. Investing the time, energy and money to attend has a positive effect on everyone.
Employees

DE is designed to be transformative. Your employees will return energized, informed and excited to help your organization deliver on its mission.

Organizations

DE will help your organization operationalize the cooperative principles as a key differentiator in an increasingly competitive marketplace.

Community

DE helps participants identify opportunities to implement or enhance products and services that meet the needs of your community.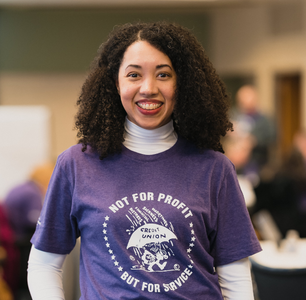 I came away from DE with a deeper understanding of how multiple, seemingly unrelated global issues can compound to make financial services inaccessible to so many. More importantly, I have a clearer vision for how the AACUC can influence our domestic and international credit union ecosystem, and can partner with credit unions to address these issues and build the truly equitable, inclusive financial movement the credit union system was formed to be.

Dohnia Dorman, chief experience officer, African-American Credit Union Coalition (AACUC)
Get in touch
For more information, contact
Contact Tobi Weingart, Chief Program Officer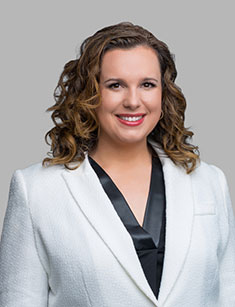 Tobi Weingart, CUDE
Chief Program Officer
Disclosures
While virtual programming has many exciting aspects, two of the biggest challenges we face are 1. connecting across different time zones, and 2. ensuring participants have the appropriate level of connection and technologies required for training. Given these issues, virtual DE sessions are restricted to U.S. participants only. 
Individuals from outside the U.S. are welcome to participate in in-person training.
Only one individual per organization can be registered for a single DE class (in-person or virtual)
PLEASE NOTE: Individuals must be from an organization that has (1) a primary purpose to support credit unions or some element of the credit union movement, (2) a significant portion of its ownership or membership from the credit union system and (3) demonstrated a commitment to the purposes of the Foundation. Non-affiliates and non-system representations will pay the posted non-member registration fee.
CANCELLATION POLICY: All cancellations must be received in writing. Please provide a brief explanation for the cancellation and submit via email to [email protected]. Cancellations received more than 30 days prior to the event are subject to a 25% administrative fee on the registration total. No refunds will be granted for cancellations received on or after 30 days prior to the event. Substitutions are accepted prior to the start of the program. Additional costs may apply. Please provide the DE training date, current participant name and new participant name to [email protected].