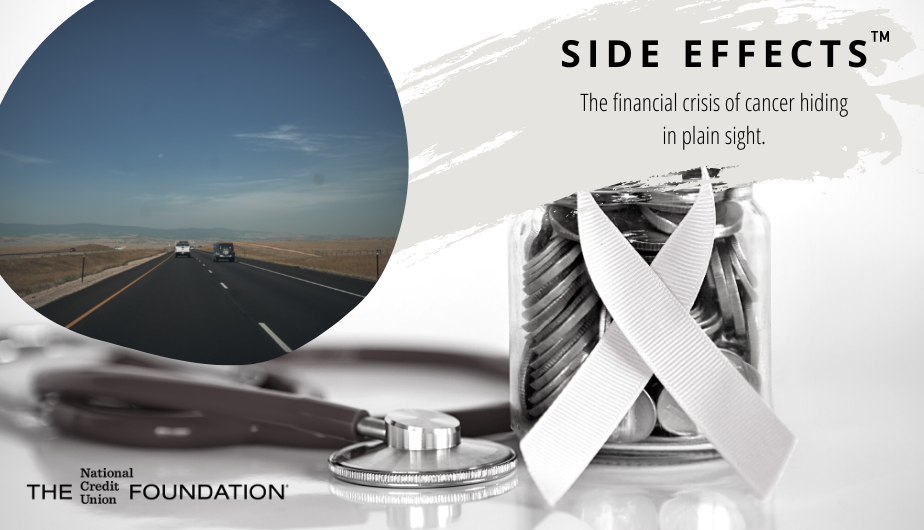 Side Effects™
Introduction | 12,614 Miles
What is the Side Effects™ Project?
Learn more about the documentary series dedicated to shedding light on the financial crisis hiding in plain sight – cancer.
Introduction | 12,614 Miles
On behalf of the National Credit Union Foundation, I'm honored to introduce you to some of the bravest, strongest, and most humble people I've ever known: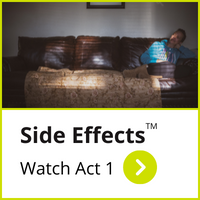 Cancer patients who have endured overwhelming physical, emotional, and financial trauma.
Credit union teammates trying to serve them.
Researchers and patient care advocates sounding the alarm about the cost of cancer in America, a financial crisis hiding in plain sight.
This project – Side Effects – builds on the 2018 work of the National Credit Union Foundation that offered a model for credit unions and health care system to work together to address members' physical, mental AND financial health and well-being.
This work is a deeper dive to help credit unions understand this link between health and wealth, with a medical issue that ALL of us have experienced in one form or another – cancer.
Our deepest hope and highest goal with Side Effects – an ambitious 7-part collection of essays, photos, films, and audio narratives – is that you'll see this connection, then serve these members better.
Many of them are fighting cancer right now but may be too scared to tell you about it. The door of opportunity is open wide now to serve them with more compassion, empathy, and generosity, and ensure they and their families have a stable financial future.
I collected and created everything you're about to see and hear from August 2020 through February 2021, driving and flying a total of 12,614 miles on a cross-country odyssey into the rugged mountains of southern Idaho, the heart of historic downtown Boston, near the sprawling campus of Duke University, and deep into the beautiful forests of northern Wisconsin.
Since Side Effects was produced during the COVID-19 pandemic, I wore a mask during in- person interviews, conducted nearly all of them by myself so as to minimize the number of on-set crew members, sanitized all equipment and set pieces before and after use, and stayed at least six feet away from participants when possible. If anyone wasn't comfortable with an in-person interview, we connected via Zoom instead.
Because cancer is a deeply personal and painful topic for so many, I realize that this project in general, and some of the narratives in specific, may be difficult at times to watch, read, and hear. Your own sojourn around and through cancer's wasteland may surpass my cross-country storytelling travels by orders of magnitude.
Please know that the National Credit Union Foundation and I are profoundly grateful for your willingness to take a brave and unflinching look at the hidden grief and desperation of a cancer diagnosis.
To shed light on the financial devastation hiding in the dark, and in plain sight. To solve the problem of financial toxicity for our staff and our members.
Collectively. Cooperatively. Fully. Finally.
Let's begin.