If your community is growing, it's also diversifying.
To this point, the U.S. Latino population is growing rapidly in communities across the nation. In 2021, roughly one in five Americans was of Latino or Hispanic heritage. Since then, they have been the largest contributor to U.S. population growth and by 2060 are projected to increase to 111.2 million, or 28 percent of the nation.
This diverse and multiethnic group already represents three-quarters of new U.S. workers and wields trillions in purchasing power, yet they remain financially underserved.
Our cooperative principles – the backbone of our business model – call for credit unions to be a reflection of the people within our communities. We also know that long-term sustainable growth for our industry has always been built on trusted relationships and human-centered solutions.
If we are to fortify the relevancy of credit unions in the future marketplace, we must continue to build these relationships and solutions with intention and urgency.
Knowing your members and community
The National Credit Union Foundation's Philanthropy ToolKit asks a salient question: who are your members and who is your community? This leads to more strategic questions to consider:
What information helps us understand who our members and community are?
Who are we serving? Are we meeting their needs and how can we be sure? If we are meeting their needs, how are we unique in doing so?
Who are we not serving? Are others meeting their needs? If not, is there opportunity for us to?
Last year, the Foundation provided a grant to explore how certain tools and resources could help credit unions answer similar questions. As we prepare our final report, the initial findings are unequivocal: there is great growth opportunity in serving diverse and underserved audiences and great risk by not.
No matter where your credit union is on your journey to explore, we can strengthen our efforts by exploring the world around us and learning from the success of others. It's part of our cooperative advantage, and we welcome you to join us for an upcoming experience that will offer you the chance to dive more deeply into serving Latino individuals and families within your community.
Taking the next step: Join us in El Paso
The Foundation's Workshop is scheduled for October 10-13 in El Paso, Texas. This immersive learning event will help credit union leaders understand how they can better reach, engage and serve Hispanic communities.
El Paso is among the top 25 largest cities in the US and its population is more than 80% Hispanic. Headquartered in El Paso, GECU is our host credit union for the event. For decades, GECU has proven to be leaders in building trusted relationships, improving people's financial lives and supporting their community.
Along with GECU, the Foundation is also partnering with Inclusiv, Coopera Consulting, NLCUP and other credit union system partners to combine expert learning with immersive experiences that will help participants bring applicable insights and ideas back to their communities.
Workshop Registration is Open to All
More information can be found here:  https://www.ncuf.coop/events-engagements/workshop/.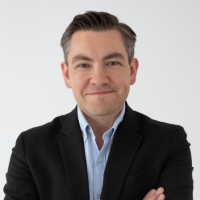 Chad Helminak, CUDE
Chief Impact Officer