On June 9, Credit Union Development Educators (DEs) from around the globe came together to make an incredible impact in their communities in celebration of the 6th annual DE Day of Service.
Each year on Day of Service, credit union leaders who graduate from the Foundation's Credit Union Development Education (DE) Program are encouraged to complete projects, volunteer, and commit to acts of kindness within our credit unions and communities. DEs are encouraged to work individually or collectively to complete an activity that improves the lives of others and addresses the DE Program's 12 Development Issues or challenges that serve as barriers to financial well-being. The Development Issues include credit, diversity & equity, education, employment, environment, health, housing, hunger, inclusion, savings, technology, and transportation.
DEs from 12 states participated in the 2021 DE of Service. Thank you to all who participated and showcased the power of the credit union difference!
See below for a wrap-up of projects completed this year (please note that some projects had DEs from various states:
Connecticut
DE Dave Hinchey from the Connecticut CU League donated blood with the American Red Cross this morning. Dave decided to focus on the development issue of health for Day of Service –ensuring healthy lives and promoting the well-being of people of all ages is foundational to human development. Just one blood donation can save up to three lives.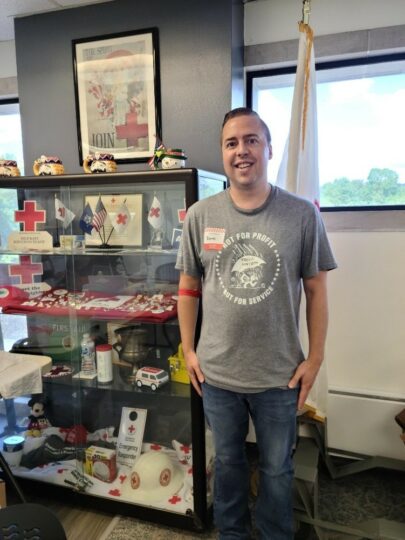 Florida
The DEs of Guardians Credit Union collectively purchased items for the Basics4Babies Emergency Pantry, a program offered by Healthy Mothers Healthy Babies Coalition of Palm Beach County.  This pantry provides formula, baby food, diapers and other baby essentials for children whose families face financial hardship.  Here is a link to the program specifics: https://www.hmhbpbc.org/pantry. Not pictured: John Deese, Guardians C's longest-serving DE.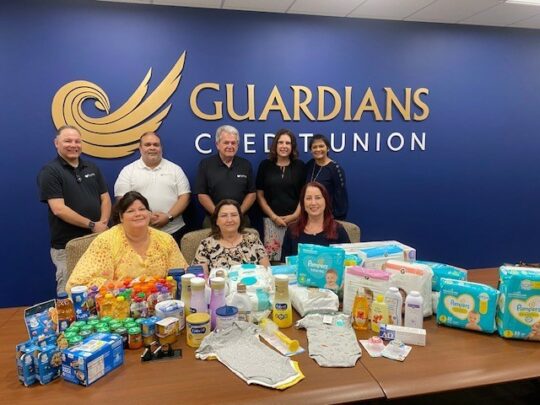 Indiana
DE James Cashman of 3Rivers FCU worked with 4 other 3Rivers teammates to join a Big Brothers Big Sisters summer mentorship program. For 6 weeks, James and his teammates will encourage and support students who had setbacks in their educational and social plans this past year due to COVID.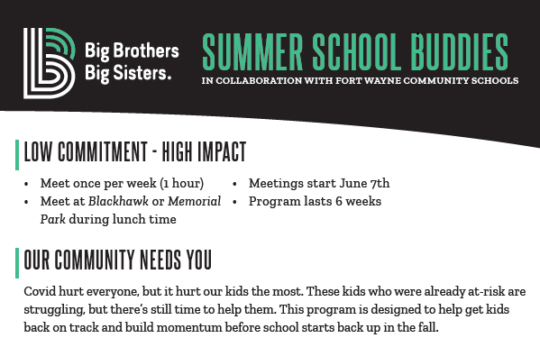 North Carolina
Coastal Credit Union's DEs spent Day of Service volunteering at Alliance Medical Ministry, a local nonprofit which provides access to comprehensive primary care to working, uninsured adults living in Wake County, where Coastal has the strongest presence. In addition to medical care, counseling and social work, they maintain a community garden that provides free, fresh produce to their clients. While there, DEs helped to weed and mulch the garden.
DEs from Local Government FCU & Civic FCU, along with the 14 interns involved in their summer internship program, started Day of Service with a panel discussion led by DEs aimed at answering questions about their DE experience and the connection between being a DE and working at the credit union. The session also touched on the principles and philosophies of credit unions, specifically "Concern for Community" and relate that to some of the development issues that our members in NC face, with the interns getting a chance to ask questions and learn more about working in the credit union industry. After the discussion, the group spent time at the Food Bank of Central and Eastern North Carolina, where they began their Warehouse Project with the food bank and other community volunteers. The team worked with the local produce that has been delivered to the food bank and sorted various produce items that will be available to community members facing hunger.
Northwest Credit Unions
DEs from the Northwest region, Washington, Oregon, Idaho, and Alaska, came together to celebrate DE Day of Service, Juneteenth, and Pride Month. At the meeting, DEs downloaded special cards and notes to send positive messages to the North Idaho Pride Alliance organization. A representative from NIPA let Northwest DEs that she had already been able to put the cards received to good use!
North Dakota
DE Nanci Wilson from University Federal Credit Union spent the day packing female product bags for her community. During a volunteering experience,  Nanci realized the need for female products donated in such a way that provided dignity to the clients. That is what inspired the creation of the No Embarrassment project. What was a hope to donate 50 bags, has grown to over 1,000 bags donated to date – BECAUSE of generous folks within the community as well as my amazing CUDE family that continues to donate makeup bags and products through the mail.
Oregon
DEs Hayley Andrews of Rivermark Community Credit Union, Sarah Buck of Forrit Credit Union, and Chantelle Castle & Ronna Idzenga of Cutting Edge Credit Union spent the day helping sort and repackage donated produce, distributing food and chatting up market-goers, and helping organize other food donations inside the church's community pantry. When appropriate, they also explained the credit union difference with other volunteers and staff to share their appreciation and enthusiasm for the work of development educators and others who are making a positive impact to address hunger in Portland.
To celebrate the 2021 DE Day of Service, four Portland-area DEs – representing three credit unions with board members of the Cascadia Chapter of Credit Unions and the YCUP PDX –  teamed up to support the Oregon Food Bank by volunteering at their monthly Free Food Market held at a local church. Oregon Food Bank's Free Food Markets provide fresh produce and other culturally relevant foods directly to people who need it. At this particular distribution event, recipients were encouraged to take as many vegetable plant starts as they could to grow some of their own produce or share with their communities. Offering a way to grow fresh produce is another key part of addressing long-term food security and sustainability, in addition to fulfilling the immediate and short-term need for food. The Free Food Market held at the Portland Open Bible Church typically serves elderly Chinese, Russian, and Ukrainian immigrants.
Pennsylvania
DE Jaime Agostino organized an effort along with her fellow Vizo Financial DEs to bake cookies and donate them to Pinnacle Health Hospital employees in Central Pennsylvania for all their hard work throughout the pandemic. Jaime led the baking event from her home all day on June 9, with other Vizo DEs coming in and out to help with baking and decorating the cookies. The cookie varieties included iced sugar cookies, buttermilk sugar cookies, cranberry orange cookies dipped in white chocolate and chocolate chip cookies. Each cookie was wrapped individually for distribution to our local healthcare professionals.
Texas
DE Brett Schnur from People's Trust FCU, realized that his credit unions HQ is a stone's throw from two professional sports stadiums and because of that location the credit union they often end up with a good amount of trash in and around their block. Brett decided to help keep People's Trusts little slice of space neat and tidy, so he went out in the Texas sun and collected a full bag of discarded cans, masks and the remnants of what used to be a burrito! Sometimes Service starts with the little things!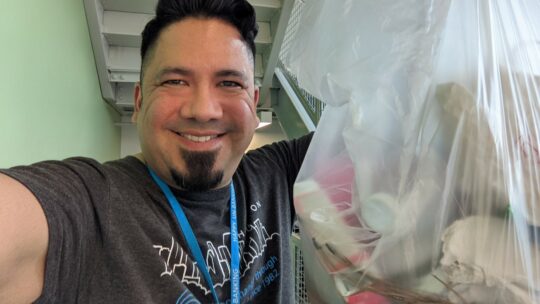 GECU's DEs participated in the sixth annual DE Day of Service by volunteering to put together health and wellness packages and deliver them to some of the older adult members of our community at La Victoria Adult Day Care Center and La Casa de las Abuelitas shelter and other members of the community at the Opportunity Center for the Homeless. Each care package included items essential for everyday health care like sunscreen, a hairbrush, a water bottle, hand sanitizer, socks, a toothbrush, toothpaste and more.
La Victoria Adult Day Care Center specializes in daytime care and programs for older adults. La Casa de las Abuelitas, also known as Shelter for the Elderly and Frail, provides emergency housing for women over the age of 50. The Opportunity Center for the Homeless provides permanent and emergency housing options and services to thousands of individuals each year.
The GECU DEs were truly inspired as they came together to be part of the transformative impact that DE Day of Service makes in our community and around the globe!
Washington
TwinStar DEs participated in helping out their local Thurston County Food Bank. They stuffed food boxes and even did a little weeding around the building!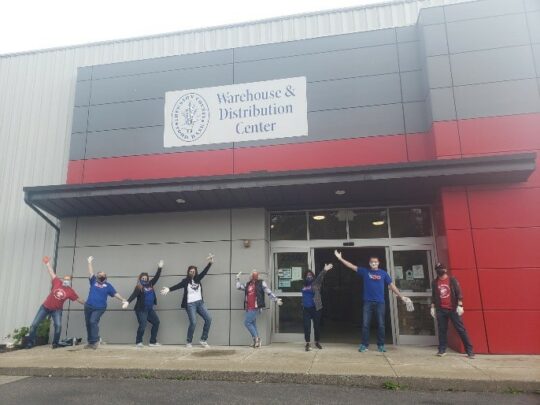 DEs from Gesa donated backpacks full of nutritious shelf-stable food for Rod's House, an organization that aims to build authentic connections with young people in Yakima and surrounding areas to support them in feeling respected and secure in who they are, empower them to reach their full potential, and positively connect them to the community.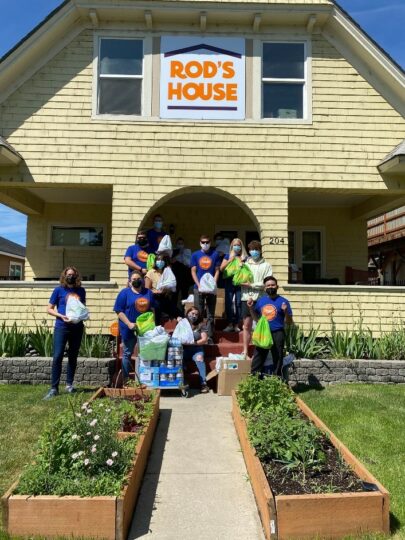 Wisconsin
A group of Madison-area DEs volunteered at the Madison Area Food Pantry Gardens' Forward Garden. This 12-acre garden serves as a hub for the Madison Area Food Pantry Gardens organization while growing unique foods for the local pantries.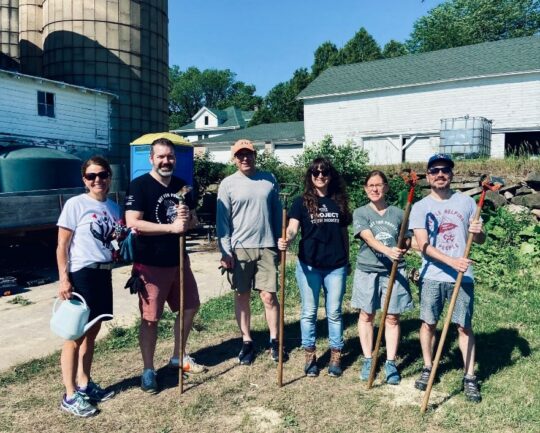 DE Dawn Grohskopf from United One Credit Union participated with her credit union's Adopt a Highway cleanup day.  She also put together donation baskets for two upcoming fundraising events benefitting PATH (Providing Access to Healing) and Mental Health America, as well as one for a youth camp's annual fundraiser.
PATH is a school-based mental health program that helps create increased access to services for youth by removing financial and geographical barriers. Students experience improved academic performance and social functioning, reduced suspensions, detentions, unexcused absences, and symptoms, and significant progress towards treatment goals.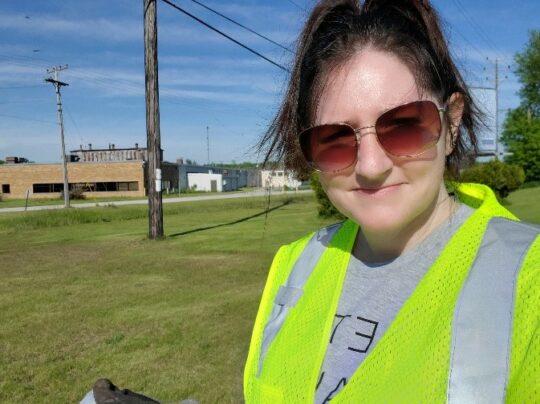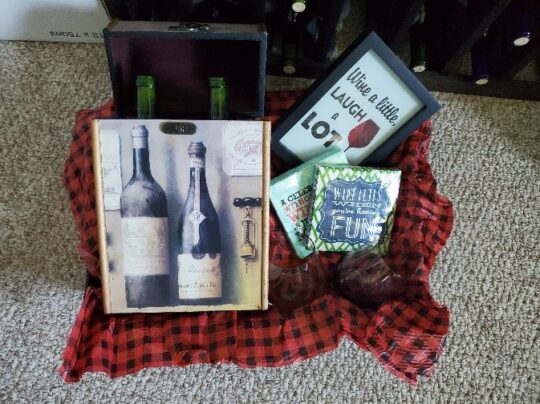 DEs from CO-OP Credit Union believe it's a matter of who is rescuing who when adopting a pet – a new cat or dog can bring such joy to their human's life. That's why the employees were honored to donate $320 of their own funds and pet supplies to the Jackson County Animal Shelter-Wisconsin Pet Rescue initiative! The money will help sponsor kitten, cat and dog adoption fees and the supplies will be included in the starter kits this project provides with new adoptions.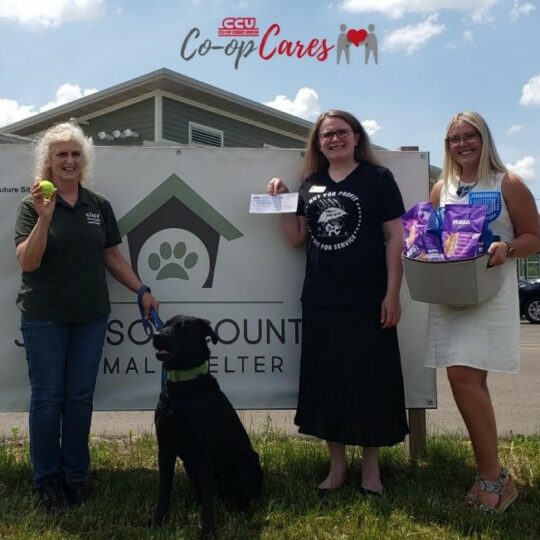 If you participated in the DE Day of Service and we missed you – we apologize! Please send your service project to [email protected] so we can be sure to highlight it. Thank you!