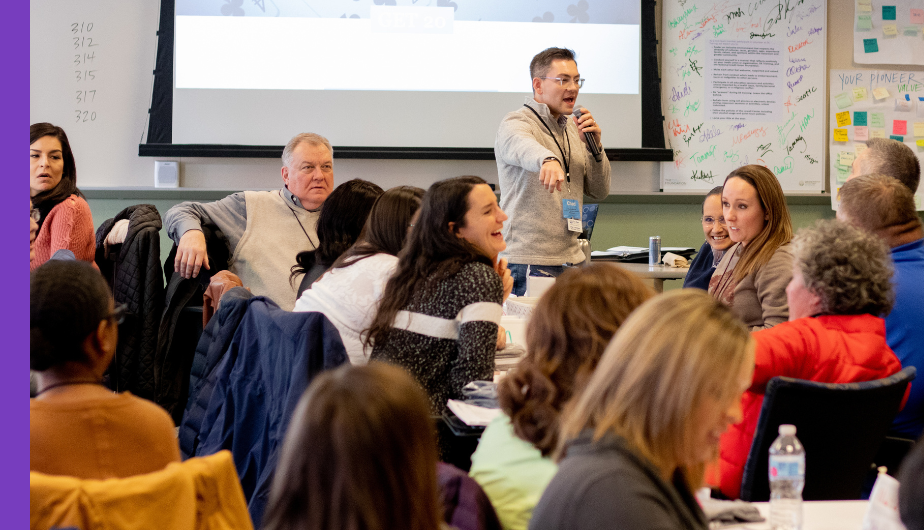 DE leadership update
As Chad Helminak transitions into a new role, Tobi Weingart takes over the DE reins
Welcome the new leader of the Development Education (DE) program
Dear DEs,
It's been a minute. As Ferris Bueller put it, life moves pretty fast and if you don't stop and look around once in a while, you might miss it. So I wanted to hit the brakes and share some news.
Back in July, we announced a shift in the National Credit Union Foundation's structure. Part of this shift promoted my colleague, Tobi Weingart, to Program Director. It's an exciting and well-deserved promotion that includes leadership of the DE program.
As we've worked through this transition, Tobi and I co-facilitated the May DE class (our first in-person program since 2019!) as well as September's. These experiences have only reinforced that Tobi's talent, passion, and commitment to service absolutely belong at the front of the room.
September marked the last time (for a while) that I'll facilitate at DE. A very kind participant approached me at the end of that program and said, "I'm glad I was able to be in your last DE class. It's hard to imagine what the program will be like without you!"
I smiled and thanked that person as I remembered hearing similar words shared with my predecessor, Lois Kitsch, nearly five years ago when she handed me the DE program reins.
Stewardship is how we make good things endure the test of time. Value-driven leadership helps us endure the winds of change and strike a balance between what must evolve and what must remain. I saw Lois embrace these concepts masterfully as DE program director. Similarly, Tobi embraces these concepts through her work and career, which includes more than a decade of experience working inside and alongside credit unions as HROD professional, learning designer and facilitator (not to mention she's a fellow CUDE, DEEU graduate and i3er). The DE program remains in good, mission-driven hands and I can't wait to see Tobi take it to new heights.
For me, it's been a dream come true to lead the Foundation's DE program. I'm grateful for all the wonderful human beings along the way who have given their time, energy, love and support to help DE stay strong.
Thanks to all our Foundation donors who make our work possible and ensure that the DE program remains vibrant and ready to deliver for the next #bestclassever, and the #bestclassever that follows.
To be clear – I am NOT leaving the Foundation. As Chief Impact Officer, I will continue to expand our organization's value for the credit union system and support our financial well-being for all efforts. But with regard to the DE program, it's my turn to proudly hand the reins to Tobi and support her leadership.
Down the road, when Tobi decides it's time to hand over the reins to someone new, I'm confident someone will tell her, "I'm glad I was able to be in your last DE class. It's hard to imagine what the program will be like without you!"
Chad Helminak, CUDE
Chief Impact Officer
National Credit Union Foundation