During February 2022's Foundation Dinner, NASCUS President and CEO, Lucy Ito, will receive the Herb Wegner Memorial Award for Outstanding Individual Achievement. Ahead of the event, we take a brief look at her legacy and impact.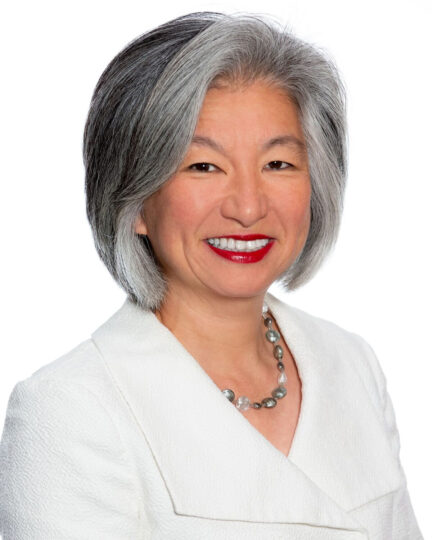 "Dedicated, influential […] exceptional." So begins the nomination packet for Lucy's Outstanding Individual Achievement award. The scale of support for Lucy's recognition equaled only by the scale of her achievements over 30+ years serving the credit union movement.
Joining the World Council of Credit Unions (WOCCU) in 1989, Lucy led development projects across the world. During her 15 years at WOCCU, Lucy's work influenced and improved the financial lives of people across Europe, Asia, and the Pacific. Of particular note was her partnership with the government of Uzbekistan, through which she laid the groundwork to introduce the former Soviet republic's first credit unions.
Lucy's commitment to the credit union mission and deep-rooted collaborative spirit reaped further rewards when she moved to the California and Nevada Credit Union League in 2004.
As an executive during the great financial crisis, Lucy's leadership helped bind credit unions together, ensuring that individually, institutionally and industry-wide, the increasingly complex needs of members were at the heart of policy and decision-making.
Ultimately, Lucy oversaw all four of the Leagues' divisions – Advocacy, Member Solutions, Strategic Innovation and Planning, Finance and Human Resources – which included economic and industry analysis, financial education, community outreach, credit union development and regulatory analysis.
Lucy's knowledge and innovation in that latter function has seen her excel as President and CEO at the National Voice of the State Credit Union System (NASCUS), a role she recently announced she would retire from at the end of this year.
Recognized as a true regulatory modernizer, Lucy is credited with increasing NASCUS' viability, impact, communication, and engagement.
Lucy has strengthened the dual charter system and created a healthy forum between credit unions and regulators, including hosting the only industry event that convenes the largest credit unions ($10 billion in assets and higher) and state and federal regulators to illuminate emerging issues and trends.
But for someone who has been so influential in shaping how credit unions (and the system that supports them) operate, perhaps Lucy's greatest legacy is her unwavering commitment to the people they serve.
Lucy is, and has always been, an avid advocate for diversity, equity and inclusion. She continually showcases her openness and the power of conversation; sharing her own family's immigration story, and supporting programs and initiatives, industry-wide, to promote, nurture and support people who have been traditionally under-represented or under-served by financial services.
How can one person accomplish so much, at so many levels, across a national industry? Filene Research Institute's Mark Meyer may have the answer: "My first business meeting with Lucy was actually conducted doing a five-mile run during a break at an AACUL meeting," he says. "While I was breathless and trying to keep up, Lucy held a steady pace while holding a discussion about key credit union issues and opportunities. I realized I was in an amazing race with Lucy Ito, and I was going to have to dig deep to keep up. Over the past 16 years I have strived to do just that. She is an exceptional leader, with a steady pace that while many of us struggle, we keep up to follow her where she is going."
Congratulations Lucy.