Ito, Heacock, African-American Credit Union Coalition and Faith Based Credit Union Alliance honored with awards during emotional return to in-person celebrations.
The mood was high as over 950 leaders from the credit union movement attended the National Credit Union Foundation's annual fundraising gala on February 28. The event, held in conjunction with CUNA's Governmental Affairs Conference, included the 33rd annual Herb Wegner Memorial Awards.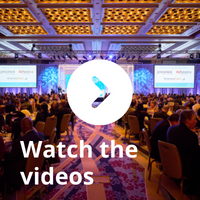 Financial well-being for all was a recurring theme during the evening, with each award recipient pointing to inclusions as a gamechanger for the credit union movement.
"The Foundation Dinner is an opportunity to celebrate the change-makers of the credit union movement, but also a platform to inspire others," said Gigi Hyland, executive director of the Foundation.
"Our system has a collective superpower: purpose. Our mission to improve people's financial lives was evidenced in our exceptional award winners, who have done so much to serve so many."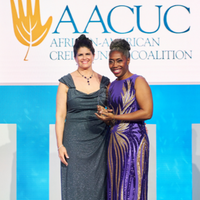 The evening started with the African-American Credit Union Coalition (AACUC) being presented with the Foundation's Anchor Award. This rare accolade was in recognition of the organization's leadership in the wake of George Floyd's murder.
As part of the AACUC presentation, President and CEO Renée Sattiewhite stated credit unions are "uniquely positioned to lead the United States in eradicating racism" due to the movement's people-centered philosophy and cooperative model. "There's no opportunity better than now, to show the world what we can do – and how we can do it," she added.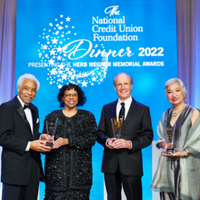 Receiving an Outstanding Individual Achievement award, Lucy Ito, recently retired president and CEO of NASCUS, called on credit unions and regulators to look at who is not at the table, when working to solve problems.
"If you're going to be biased, be biased towards including and connecting people to each other," Ito said. "When I think of my career, there's a common denominator among the leaders I've worked with. It's collaboration and connecting people with each other."
Roger Heacock, also recently retired from his role as president and CEO of Black Hills Federal Credit Union, spent more than four decades serving some extremely impoverished communities in South Dakota. "Through the years, our remarkable team truly made a difference with their passion for service and their commitment to our mission statement of improving lives," he said.
Chicago's Faith Based Credit Union Alliance – a cooperative of ten micro-credit unions supporting some of the city's most underserved communities – received the Outstanding Organizational Achievement award.
Accepting the award on behalf of the organization, Dr. Joronda Crawford, president and co-founder of the alliance, said: "Through collaboration, our credit unions gain the tangible benefits of mandatory training, support […] and more, that ensure our member credit unions remain alive, vital and not left behind."
As the charitable arm of the U.S. credit union movement, the annual gala is central to the Foundation's fundraising. In addition to sponsorship and ticketing revenue, attendees on the night raised over $16,000 through a text-to-give initiative.