How one credit union has transformed its work with employees after attending the Foundation's DE program.
The Foundation's DE program is celebrating its 40th year, and the impact its teachings can make on the individuals who go through the program is stronger than ever. At Ent Credit Union in Colorado Springs, nearly 20 employees have earned their CUDE designation and have made an impact on their more than 1,500 colleagues and the credit union as a whole.
Three of those DE graduates are helping to lead the charge: Mollie Bell, chief development officer and September 2019 graduate; Marnie Gerkhardt, director of learning innovation and April 2014 graduate; and Amber Lundy, service area manager and October 2020 graduate.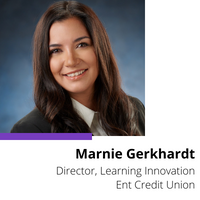 Marnie credits attending DE and returning multiple times as a mentor as a huge part of her professional journey. "Each of those opportunities combined with what I'm working on now resonated with me, particularly when creating unique learning experiences focused on the needs of our members. If you help one member, you've done the thing."
Amber agrees. "For me, the biggest thing was the advocacy piece. When I'm in centers with my team, I have a lot more passion just to advocate and ask my team, 'why are we doing that for the member? How can we do this better?' I've seen a lot of positivity with it where people ask me a lot more about DE, and I find my leadership now is even more passionate after going through that experience."
After Lisa Kazee graduated from DE in April 2018, she realized how many program graduates there were at Ent and was inspired to bring these individuals together more often as her DE project. Kazee organized the group of DE graduates to meet regularly and discuss how they turn lessons learned into acts of kindness for the greater good. In the spring of 2020, they worked with what is now GoWest Credit Union Association for their DE Day of Service project to host a drive for hunger to raise money and collect food to help members and their communities impacted by the pandemic.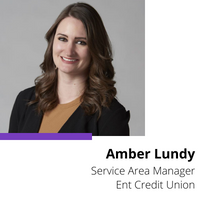 After hosting the successful fundraiser and continuing to meet regularly with their fellow DE graduates at Ent, Amber, Marnie and Mollie put what they learned at DE into action in the workplace.
Since other employees had been asking them about DE and all they had learned, they had the idea to form a new employee engagement group (EEG) focused on the heart of credit unions and the impact that they can have on their membership. While EEGs have been a presence at Ent for many years and cover different topics, this EEG is different.
"We have people who are part of the group that didn't even know what a credit union was about," Lundy, current chair of the Credit Union Champions EEG, said. "Then we have people who are super passionate about the credit union movement. What we finally ended up focusing on was the cooperative principles."
Meeting bi-monthly and run by board members, the EEG picks a different cooperative principle to discuss. They bring in guest speakers and create activities to make fun but intentional. Since it was created, the EEG has grown to over 120 employees, who are now even more excited about the credit union movement and how it's different from others.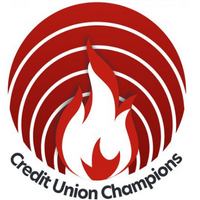 "We've been able to provide opportunities to employees that we may not have been able to provide before," said Lundy. "We also want to be more connected and engaged with other credit unions so that we can help lift each other."
What advice would they give to people starting a similar EEG?
"You just have to start somewhere. Do something. It started with a group of DEs meeting regularly here.  Get those purposeful, passionate difference-makers together and let them run," Gerkhardt said. "If you get the right people, with the right ambition in the room, they'll find a way.  If we can help everybody at Ent find the connection to our mission, help them do their jobs better, and live their values, it makes us a stronger organization, which helps our membership."