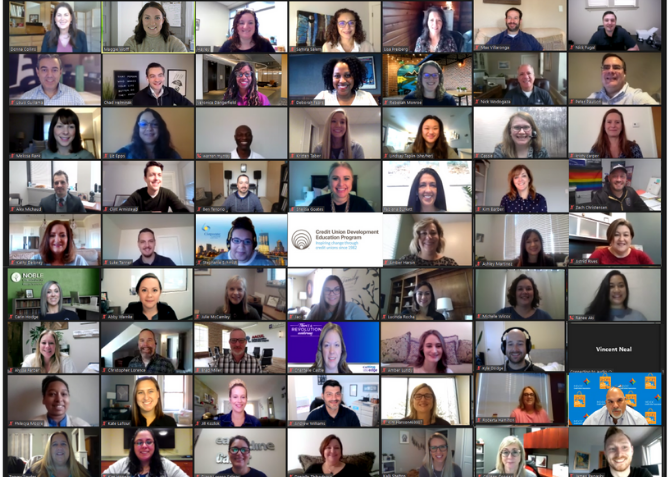 Credit Union Leaders Graduate from Foundation's Virtual DE Program
Fifty-nine credit union leaders were designated as Credit Union Development Educators (CUDEs) after completing the National Credit Union Foundation's (the Foundation) Credit Union Development Education (DE) Training.
The October DE Training was held October 26 – November 20, 2020. This marks the second class to complete DE Training in the new, virtual learning environment. The virtual training was completed by employees and volunteers from credit unions and system partners across the United States credit union movement.
DE Training is a unique experiential training program that provides lessons in credit union structure, purpose and the "why" that differentiates credit unions from other financial institutions. During the Foundation's signature program, participants engage in small and large group exercises and interactive speaker sessions focused on the credit union difference, development issues, and empathy. Each lesson provides insights into how credit unions can leverage their unique business model to help their members and communities overcome the financial and developmental issues they face.
Hear what a few graduates had to say about their experience:
"The experience at DE can't be defined in one word. It's a deep and very rewarding experience. An experience with a team that has the same passion and is a firm reminder of why we do what we do. It doesn't matter how long you've been part of the credit union family, we all learned that there is much more outside the scope of our everyday work. A way to be involved and become part of helping our own communities flourish." – Lisa Freiberg, CUNA Mutual Group.

"To say that the DE Training exceeded my expectations would be an understatement! I couldn't be more thankful for the amazing opportunity to delve into, and be inspired by, the power credit unions have, with their unique business model and mission, to positively impact the lives of their members and their communities through cooperation and collaboration. " – Fabiana Burkett, Xceed Financial Credit Union.

"I have been interested in CUDE training since first learning of it a few years ago and was signed up to attend in person with work projects delaying those each time.  I was a little bit nervous about the effectiveness of the virtual training since I had heard so many wonderful things about the networking and relationship building in the onsite sessions but I needn't have worried! I've attended dozens of virtual conferences and training sessions pre-COVID and post and none have held a candle to how well run the CUDE sessions were. From the first day, the sessions sped by and the Foundation could not have made it any easier to connect with other participants and get the most out of the training. Now, for the content. Wow! So much thought-provoking material to digest and use in a manner that will help improve the lives of employees and members. The style of bringing in several different folks to speak about their area of passion kept things moving quickly and sustained our interest. There was something for everyone and I cannot imagine that any participant has finished the training not feeling like the commitment has been worthwhile and not inspired to help make their part of the world a better place!" – Tammy Snyder, CO-OP Financial Services.
Class Graduates
The most recent DE graduating class included credit union movement representatives from across the United States. They are: Ranee Aki, True North FCU in Alaska; Clinton Armistead, Heartland Credit Union Association in Kansas; Hayley Bangsberg, Altra FCU in Wisconsin; Kim Barber, PSCU in Iowa; John Bratsakis, Maryland & DC Credit Union Association in Maryland; Fabiana Burkett, Xceed Financial CU in California; Kristy Carper, Atlantic City FCU in Wyoming; Chantelle Castle, Cutting Edge FCU in Washington; Zachary Christensen, Mitchell, Stankovic & Associates in Nevada; Donna Collins, Greylock FCU in Massachusetts; Colleen Cooper, Truity Credit Union in Oklahoma; Veronica Dangerfield, Patelco CU in California; Kathy Deloney, Engage FCU in Louisiana; Kyle Dodge, Unitus CCU in Oregon; Lizette Epps, Visions FCU in Pennsylvania; Alyssa Faber, United Northwest FCU in Kansas; Deborah Fears, Chicago Post Office ECU in Illinois; Lisa Freiberg, CUNA Mutual Group in Minnesota; Nick Fugal, Clarity CU in Idaho; Shelisa Goates, American Airlines FCU in Texas; Louis Guillama, Coastal FCU in North Carolina; Roberta Hamilton, TwinStar CU in Washington; Kim Hanson, Maps Community Foundation in Oregon; Amber Harsin, CU Prodigy in Utah; Carin Hodge, Noble CU in California; Kimberly Hooper, Merck, Sharp & Dohme FCU in Pennsylvania; Jill Kozlok, Commodore Perry FCU in Ohio; Kate LaTour, NCBA in Washington, DC; Jacqueline Lopez, MassMutual FCU in Massachusetts; Chris Lorence, CU Awareness in Maryland; Amber Lundy, Ent CU in Colorado; Ashley Martinez, State Employees CU in New Mexico; Julie McCamley, Russell Country FCU in Montana; Alex Michaud, True Sky CU in Oklahoma; Brad Miller, AACUL in South Carolina; Rebekah Monroe, Christian Financial CU in Michigan; Fhilecya Moore, Harrison District 2 FCU in Colorado; Warren Murray, Coastal FCU in North Carolina; Vincent Neal, Canvas CU in Colorado; Peter Paulson, Corporate America Family CU in Illinois; Cassie Perenchio, Co-op CU in Wisconsin; Melissa Rank, CUNA Mutual Group in Wisconsin; James Repasky, Summit CU in Wisconsin; Astrid Rives, PostCity Financial CU in California; Lucinda Rocha, FIS in Texas; Samira Salem, Credit Union National Association in Oregon; Diana Salinas, Border FCU in Texas; Stephanie Schmidt, Corporate Central CU in Wisconsin; Tammy Snyder, CO-OP Financial Services in Iowa; Luke Tanner, Rio Grande CU in New Mexico; Lindsay Taplin, Seattle CU in Washington; Ben Tenorio, Credit Union National Association in Wisconsin; Danielle Thibodeaux, Louisiana Credit Union League in Louisiana; Max Villaronga, El Paso Area Teachers FCU in Texas; Abby Warnke, First Pioneers FCU in Wyoming; Andrew Williams, My CU Mortgage in South Carolina; Kristen Williamson, Members First CU in Michigan; and Nick Wodogaza, Palmetto Citizens FCU in South Carolina.
Training Staff
The program was facilitated by Chad Helminak, the Director of DE and Cooperative Culture at the Foundation, assisted by Kalli Shelton from the Foundation and coordinated by Maggie Wolff from the Foundation.
Interested in Attending DE Training?
2021 DE Training dates will be announced soon! Email us at [email protected] to be put on a notification list to stay up to date on upcoming 2020 registration information, or click here for additional information.