Credit union leaders called upon to contribute $10M over five years
Five leaders from the credit union industry were the first to commit to the FinHealth Fund—a new designated fund held at the National Credit Union Foundation, focused on improving financial well-being for all by scaling existing work across the credit union movement.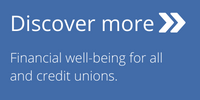 A joint statement issued by executives at CUNA Mutual Group (Madison, Wis.) and four credit unions (BCU, Chicago, Ill.; Coastal FCU and Local Government FCU, Raleigh N.C.; Redwood CU, Santa Rosa, Calif.) said, "The financial health of 166 million Americans is fragile and uncertain.
"Now is the time to act boldly, to come together as a cooperative movement and accelerate work that can improve the financial well-being of our employees, members and communities."
The FinHealth Fund has been established to capitalize a five-year program focused on three interrelated efforts:
Creating a national resource library (e.g., current work, case studies, toolkits and other resources) to help credit unions embrace financial well-being for all as a strategic imperative.
Providing education and upskilling for credit union employees to establish a workforce ready to passionately serve people where they are in their financial lives.
Supporting industry-wide consumer research, data capture and analysis to prioritize efforts and quantify improvements to members' financial health.
The statement went on, "We are now calling on our credit union peers, system partners and providers to join us in raising $10 million over the next five years. We can transform lives by helping people improve their financial health. This is at the heart of why credit unions exist."
CUNA Mutual Group has already pledged $1 million. Each of the four credit unions has also committed an additional $250,000. The National Credit Union Foundation will act as fiduciary for the FinHealth Fund. An advisory committee will oversee and approve distributions.
Interested in supporting the fund?