Business-as-usual had done little to help Astera Credit Union and its members thrive. Focusing on financial well-being changed everything.
When President/CEO Martin Carter came to Astera Credit Union in Lansing, Michigan, he had a big job on his hands. The community had never fully recovered from losing three of the city's five auto plants—and the stable, good-paying jobs that went with them.
In fact, Astera's membership was so financially unhealthy the National Credit Union Association proactively designated Astera a low-income credit union.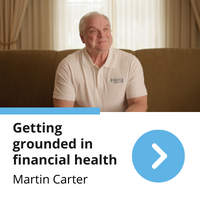 "The area was saturated with larger financial institutions we couldn't compete with, and much of our growth came from indirect lending—loans that were deep in the sub-prime market, with high levels of delinquency and charge-offs," said Carter.
"I knew our credit union was the right financial partner for this community, but no matter what we did, we found ourselves saying no to members more often than we said yes.
"We were missing out on opportunities because our denial decisions were based on poor credit scores. We didn't have any solutions that would provide these members with a path to approval. And that was hurting them—and us."
The lightbulb moment
Astera had tried to improve members' financial health through financial literacy workshops and webinars, but the approach delivered little traction and impact was difficult to measure.
"Financial literacy was clearly a part of the solution, but it wasn't solving the long-term issues I saw in my membership," said Carter.
And then he heard of CU FinHealthTM.
"I had a conceptual idea of financial well-being, but I wasn't connected to a group of peers and didn't know how to make it happen. As soon as I heard about CU FinHealth, it was a lightbulb moment. I thought, 'Bingo, I need to go to that.'"
Sharing ideas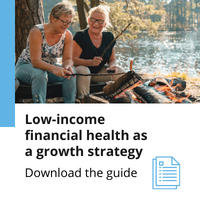 CU FinHealth is the leading financial well-being event for credit unions and system partners, hosted annually by the National Credit Union Foundation, California and Nevada Credit Union Leagues and Cornerstone Foundation.
However, when Carter arrived at the 2019 event, his first impression was that everyone was focused on the same financial literacy path. Were his peers having better luck with that approach than he had?
"Someone else obviously shared my reservations because he stood up in front of the crowd and challenged the audience, 'You're making a difference? Prove it!' That changed the energy in the room."
Attendees began to share exactly what they were doing to help improve member financial well-being.
"As I listened, I saw Astera had an opportunity to do something no other Lansing financial institution was doing: Make financial well-being for low-income consumers our one and only value proposition."
According to Carter, the strategic shift "opened up blue ocean" for Astera Credit Union. "With our new value proposition, we were no longer competing with any financial institution in our area. We could focus all our energy on serving one population and achieve economies of scale without having to investigate a merger. The board understood this wasn't just a path to survival, it was a way for us to grow our credit union and help our community thrive."
Financial well-being as a long-term growth strategy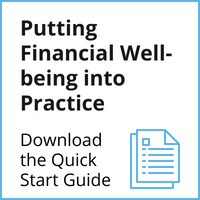 When Carter joined Astera, the credit union had 25,000 members and $145 million in assets. Today, membership has reduced to 15,000 but assets have jumped to $192 million. While a 40 percent membership drop might seem like a negative, it reflects the credit union's move away from relying on indirect loans to (temporarily) build membership. And growing assets by a third is proof the new approach is making a difference.
"It's not been an easy road but it's exciting to have a clear vision," added Carter. "I could be retired right now, but I'm not because I love what I'm doing."
Carter ensures he emphasizes the need for longitudinal commitment whenever he discusses financial well-being. "In my experience, demonstrable engagement and growth in the positive financial outcomes and financial health of members doesn't come fast or easy," he said. "It takes dedication to find and implement strategies that work for everyone, and it takes patience and conservative expectations for success and growth.
"There is so much need out there, so when our pilot program launched in mid-2020 I expected to be inundated by enrollees and success stories. What I got was a handful of enrollees and a couple of great outcomes. I'm still working on ways to scale up our engagement numbers, which will eventually scale up our successes. However, I've muted those initial high expectations and replaced them with a determination to count our successes one member at a time.
"What is inarguable is that with our clear vision, Astera is now serving people in a way that's impactful and seeing the results. We have a mature financial well-being program, we're investing in innovative technology and while it's a lot of work, it's all worth it. CUFinHealth was the life-changing first step that sent us on our way."
More information: The National Credit Union Foundation partnered with Astera to detail how the credit union placed financial well-being for low-income consumers at the heart of its strategy. Download the guide.
Registration for the 2023 CU FinHealth Conference is now open. Secure your seat at the leading financial well-being event for credit unions today.