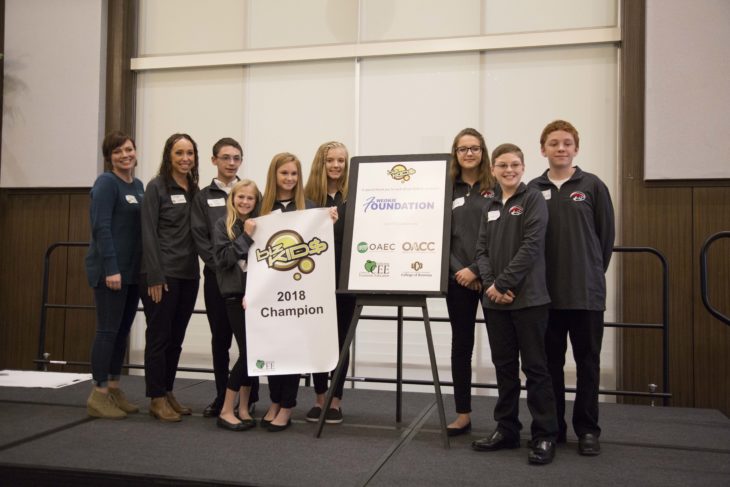 Second Annual Biz Kid$ Middle School Cooperative Entrepreneurship Competition
Over 100 middle school students from seventeen schools across Oklahoma participated in the second annual Biz Kid$ Cooperative Entrepreneurship Program hosted by the Oklahoma Council on Economic Education, presented by the WEOKIE Federal Credit Union Foundation with grant funding from the National Credit Union Foundation.
The competition took place in October in celebration of National Cooperative Month and was held on the University of Central Oklahoma campus. It was also co-sponsored by the Oklahoma Association of Electric Cooperatives with assistance from other affiliated partners and credit unions.
Participating teachers were paired with a "Cooperative Consultant" from a local credit union, electric cooperative or cooperative trade association, and together they taught students about the basics of cooperatives and implemented the
Biz Kid$ financial education program
. The Biz Kid$ lesson plans and episodes provided the students with the knowledge and tools to become creators of their own businesses.
Prior to the competition, teachers provided relevant instruction to help students understand the ins and outs of starting their own business while the consultants guided students in the cooperative way. The students put together a formal business plan for their new cooperative as well as a short presentation to convince the judges that their cooperative deserved the grand prize.
The day of the competition, students were able to showcase their teamwork abilities, public speaking and newly learned Biz Kids$ entrepreneurship skills. They also had the opportunity to participate in a
Reality Fair
, a youth experiential learning activity where students are a given a salary and make purchase decisions while trying to balance their budget.
Caney Middle School took first place with their Double Play Resale business concept. Caney is a rural town with most students at the school qualifying for the free and reduced lunch program, and the nearest sports retailer is 50 miles away. Double Play Resale is a consumer co-operative that resells gently used sports equipment, clothing, and apparel on a consignment basis.
"I am so thankful for the Biz Kid$ experience," said McKena, an 8th grade student from Caney Middle School. "I have grown so much in my skills and I also learned about the benefits of a cooperative business. I had not even heard about a cooperative business before Biz Kid$!"
"Having the opportunity to teach these student about co-ops and seeing them get excited about the cooperative system was really neat," said Sarah Baca, Oklahoma Agricultural Cooperative Council, Cooperative Consultant for Belle Isle Middle School. "Their transformation from a nonexistent knowledge base of co-ops to presenting on patronage and membership in front of a panel of judges made me extremely proud."
The following organizations demonstrated concern for the community while cooperating among cooperatives to provide education, training and information by serving in the BizKid$ Cooperative Entrepreneurship Program as a consultant, judge, or Reality Fair volunteer:
Credit unions: Allegiance CU, Catalyst Corporate FCU, Communication FCU, Muskogee FCU, Tinker FCU, University & Community FCU, WEOKIE FCU, People's Trust FCU of Houston, & Simplicity CU of Marshfield, Wis.
Electric cooperatives: Cotton, OEC, Alfalfa, Canadian Valley, CKEnergy, & Lake Region.
Partners: BizKid$, Cornerstone Credit Union League & Foundation, CUNA Mutual Group, the Federal Reserve Bank of Kansas City & MemberHaven.