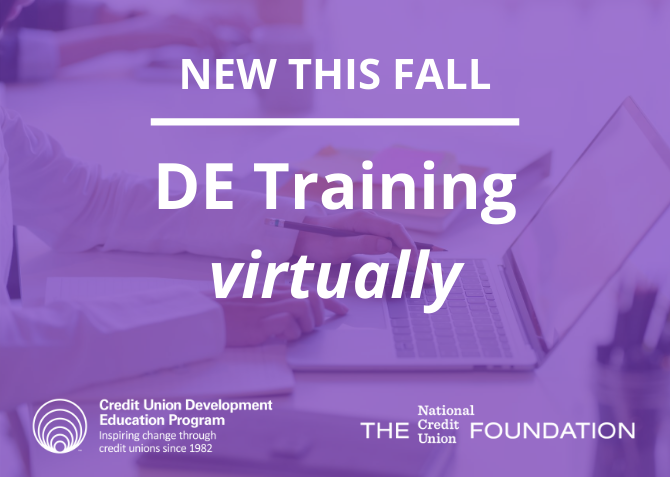 DE Training Offered in a Virtual Learning Environment
Please note that both sessions are sold out. If you would like to be placed on a waiting list for the October session, please contact Maggie Wolff at [email protected].

While the COVID-19 pandemic continues to create unique challenges and shape our new normal, the DE Program is transitioning to meet credit unions where they are now. This fall, for the first time, the DE Program will be available virtually. As the signature program of the Foundation, with a near-40-year history, the DE Program is uniquely positioned to make this first transition into a virtual learning environment.
Since the first class in 1982, the U.S. DE Program has proven to be incredibly resilient. It has been hosted across the country at universities, corporate conference centers, remote nature preserves, hotel conference rooms, and monasteries. Activities and experiences have always been shaped around each environment and offered unique learning opportunities. The virtual setting is simply a new venue that will allow us to adapt the DE experience to meet credit unions where they now.
What's unique about the virtual DE Program? The virtual program will offer a mix of live and on-demand sessions completed over a four-week period. The extended training length will offer participants more opportunities to absorb and reflect on learning while also creating meaningful connections with classmates.
What remains the same? While the setting is changing, the mission of the DE Program, to help established and emerging leaders within the credit union movement understand and leverage credit unions' unique business model to serve members and communities in new and better ways, is not. The new, virtual learning environment is positioned to continue to help connect people to the purpose of credit unions. During training, DEs learn how to put empathy into action in order to solve organizational, member, and community issues in new and positive ways.
In 2020, we have offered two virtual DE Trainings occurring in September and October. Each session had limited seating.
Cost: $2,000
Timing: Sessions will run for four weeks with live classes being held on Monday & Tuesday of each week.
CUDE Designation: Upon completion of the program, participants will earn their Credit Union Development Educator (CUDE) designation and join a network of over 2,000 credit union professionals.
To learn more about what DE Training will look like in our new virtual environment, click here.
Questions? Contact Maggie Wolff at [email protected].
*Please note that at this time the virtual learning environment is only available to domestic participants.