Happy #CUFinHealth Month!
Happy #CUFinHealth Month! Yes, yes – we know it's officially Financial Capability Month. But, this is the credit union system! We're going rogue and "credit union'izing" the name. Here's why.
At the Foundation, one of our three pillars of work is to Ignite. We ignite understanding, passion and focus on member financial health by providing tools and resources so credit unions are recognized as national financial health leaders. Through our experiential learning programs, thought-leadership and advocacy of credit unions at national financial health events, we're helping to advance credit unions' strategic focus on member financial health.
Every day this month, you'll get a tidbit from the Foundation on this whole universe of #CUFinHealth. We'll focus each week on a different aspect of financial health, leveraging our great partners Prosperity Now and CFSI's methodologies in looking at financial capability and financial health. Ready to come on this journey with us? Alright, let's get started!
So, financial capability vs. financial health. What's the difference, you ask? Think of financial capability as the foundation (pun intended) for financial health. Our friends at Prosperity Now have defined financial capability as "the capacity, based on knowledge, skills, and access, to manage financial resources effectively." They created the graphic below to show what's needed for financial capability.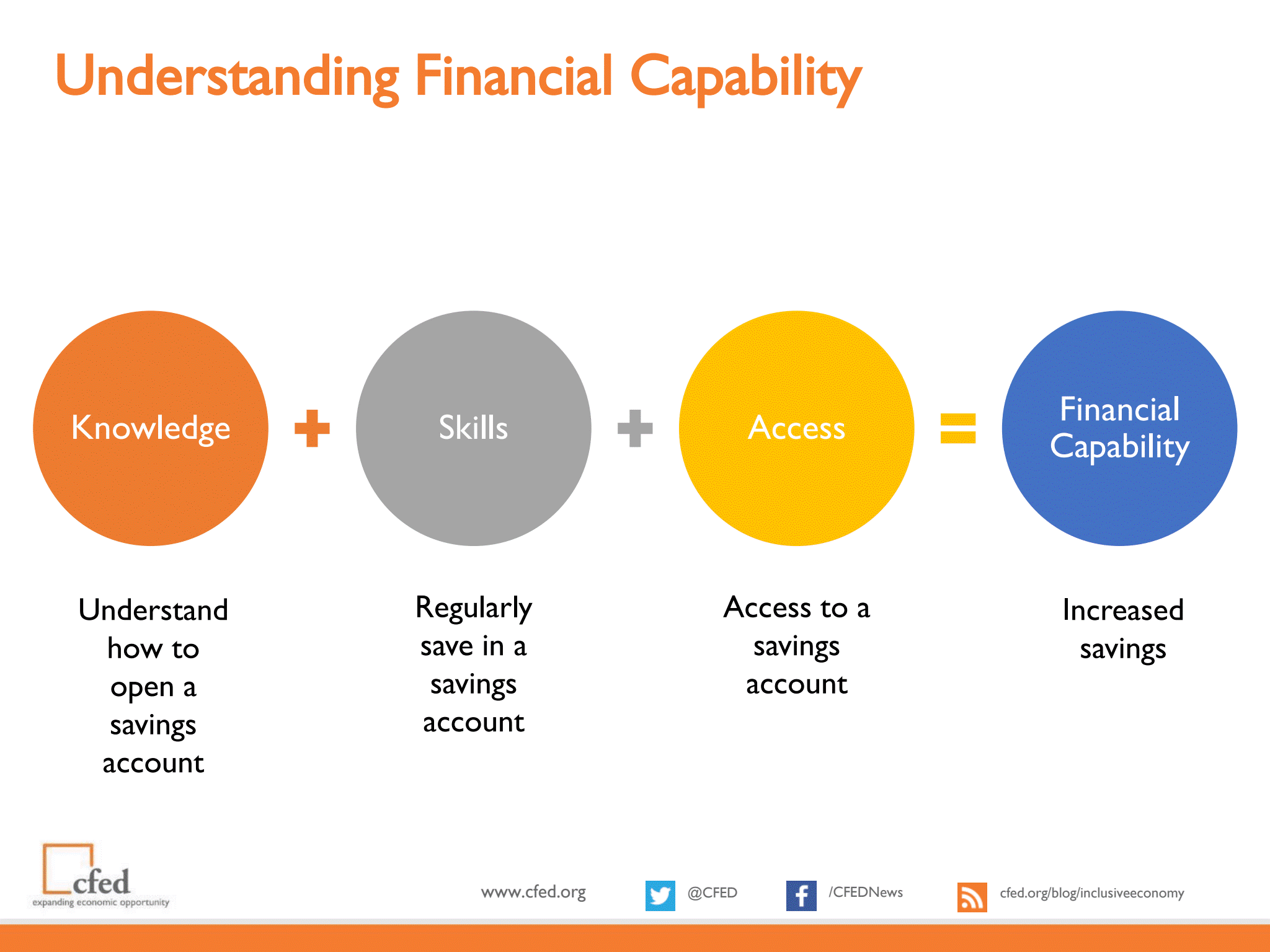 (Image from Prosperity Now)
You need knowledge, you need skills and you need access to be financially capable.
So now, financial health. Our friends at CFSI have defined financial health and developed 8 steps to measure it. Financial Health "is achieved when an individual's day-to-day financial system functions well and increases the likelihood of financial resilience and opportunity."  CFSI also has identified four key components of a person's financial health: Save, Spend, Borrow and Plan. CFSI outlines 8 activities under each of these categories that lead to financial health.
In 2017, the Foundation provided grants to 6 credit unions across the country to do financial health check-ups of their employees and members. The survey sample size of 28,000 showed that 58% of credit union employees and members are struggling financially.
Each week in April we'll explore one of these four categories. We'll look at the opportunities credit unions have to put financial health at the center of their strategy to serve members and identify what's already out in the credit unioniverse that's working.
This first week of April will focus on Save. And today, April 3rd, our focus is on emergency savings.
You've heard the statistic time and time again: 40% of the population couldn't come up with $400 in the case of an emergency. Credit unions—that's your call to action. Make sure you have a mechanism – a share account, a buildable share certificate that allows people to save for whatever emergency may happen. And they do happen.
That day you blew a tire. The time your dishwasher overflowed. That vacation when your child got sick far from home and the doctor wouldn't take your insurance. We all have those unexpected events in life that can lead to financial stress, but it doesn't have to be that way. Help your members putting aside a few dollars a week into a savings account for unexpected costs can build financial security – and relieve a lot of their anxiety! Saving for the unexpected starts with small, regularly scheduled contributions that build up over time.
One area you may not think about is helping your members plan for a disaster from a financial perspective. Over the past 3 years, the Foundation has distributed over $3 million disaster relief through CUAid to our credit union family in Florida, Texas, California, and Nebraska as a result of several hurricanes, floods and wildfires. These events can and do wreak havoc on a members' financial life from losing all their financial information and records in the disaster to not knowing where to turn for help to get back on their feet.
The Federal Emergency Management Agency or FEMA has launched a series of resources encouraging personal financial planning to help individuals and families prepare for disasters, big and small.
According to its press release on Monday,  "Many people have experienced the challenges of rebuilding their lives after a disaster. In these stressful circumstances, disaster savings can help individuals, families, communities, businesses and organizations bounce back quicker and start the road to recovery.
FEMA advises, "The best way to prepare for a natural disaster is knowing the risks of where you live and saving for the unexpected. Here are a few tips to help you start, and strengthen, your emergency savings fund and budgeting:
Prepare for the risks where you live. Personal financial planning helps families prepare for disasters both big and small.
Create a rainy-day fund. Consider saving for disasters by setting aside money for unexpected costs including hotel stays, food, gas and insurance deductibles."
Tune in tomorrow for a look at prize-linked savings and ABLE accounts.