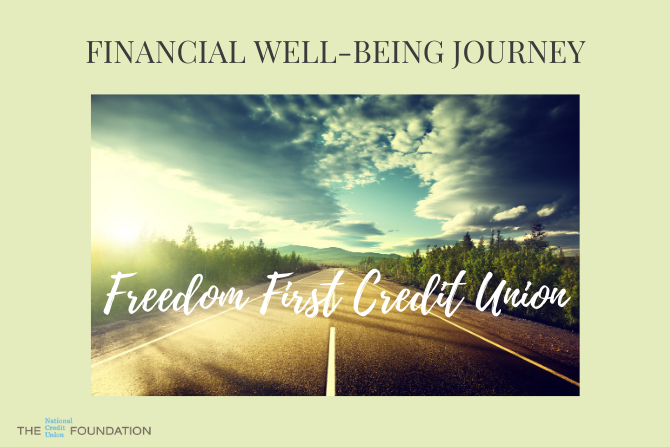 Freedom First Credit Union + Their Financial Well-being Journey
Financial well-being is not A thing credit unions do, but THE thing credit unions do. The Foundation is on a mission to catalyze credit unions into putting financial well-being at the heart of their strategy by providing ideas from organizations who are putting in the work to make that happen. Here are their stories.
What was the financial well-being problem?
Carilion Hospital is the largest health care system in the Roanoke Valley and one of its largest employers. Carilion Hospital, along with Carilion Clinic, and Healthy Roanoke Valley (HRV) partnered to conduct the 2018 Community Health Needs Assessment (CHA). Together with partners, they committed to the essential work of improving and maintaining the health of their community. The CHA is conducted every three years to uncover issues, indicate where improvement goals are needed, and track and promote progress in key areas so that there is demonstrated ongoing improvement. The work of conducting this CHA and the public availability of its findings is intended to enable the community to effectively plan the vital work of maintaining and improving health.
The finding of the 2018 CHA revealed 10 priority health-related issues in the community. Those identified and prioritized, after review of the data collected, include:
Poverty/low average household income
Transportation/ transit system
Access to mental/behavioral health services

Access to substance use services

Culture: healthy behaviors not a priority
High uninsured/underinsured population
Affordable/safe housing
Access to dental care
Poor diet
High cost of care
Educational attainment
As you can see from this needs assessment most are systemic around financial well-being. Collectively organizations came together to form HRV, a partnership of public and private entities, anchored by the United Way of Roanoke Valley as the backbone organization. HRV mobilizes community resources to improve access to care, works to better coordinate services and promotes a culture of wellness. Freedom First Credit Union is one of those support partners.
What did they do about it?
Roanoke City Public Schools (RCPS), Carilion, Freedom First and Delta Dental came together with school administrators, teachers, parents and guardians to design a community health center on Fallon Park Elementary School's new campus. This school is located in one of Roanoke's underserved and impoverished communities. Fallon Park is one of the largest elementary schools in the city, this LIFT (Local Impact for Tomorrow) initiative opening in August 2020, will house a pediatric medical facility, dental and mental health clinic, along with a financial counselor and a community health worker to connect families to resources. A school advisory group identified asthma as a key health issue and a community-based program that needs attention for in-school and at-home services. This model will scale to other key schools in the city and rural areas of Southwest Virginia.
At the same time, the City of Roanoke, in partnership with the national Cities for Financial Empowerment Fund (CFE Fund), will launch the Financial Empowerment Center (FEC) model. The City, in collaboration with Freedom First and United Way of the Roanoke Valley, will receive support to bring free, professional, one-on-one financial counseling as a free public service. At the FECs, professionally trained counselors help individuals and families with low and moderate incomes manage their finances, pay down debt, increase savings, establish and build credit, and access safe and affordable mainstream banking products. At the core of the FEC model is the integration of counseling into other social services, including housing and foreclosure prevention, workforce development, prisoner reentry, benefits access, domestic violence services, and more.
Efforts of ensuring residents in need have access to the tools that will help them gain self-sufficiency and financial stability will be further enhanced through products and services offered by Freedom First.
What was the result?
The LIFT project and the FEC model are new initiatives with Freedom First but financial education is not. Freedom First uses Pathways to Financial Empowerment a financial counseling model supported by first-of-its-kind technology to track impact. Pathways was launched by Inclusiv and Neighborhood Trust Financial Partners in 2015 and has achieved incredibly strong impact results to date.
Pathways supports credit unions to:
Deliver consistent, best-practice financial counseling and coaching to low-income and underserved people
Achieve and measure impact on members and the credit union on central platform
Analyze and better understand financial wellness and engagement of members
To date, some of the outcome measurements at Freedom First include:
57% of Pathways clients having achieved one or more of their financial goals
Those in counseling for at least 4-6 months, 57% improved their credit score by an average of 42 points
15% moved up a credit category enabling them to access lower interest rates
Of the 72 people who came to counseling "unscorable," 53 (74%) now have established credit
42% reduced their debt by an average of over $7,000
The median debt reduction was over $2,000
You can learn more about Freedom First Credit Union in this article from CUTimes.