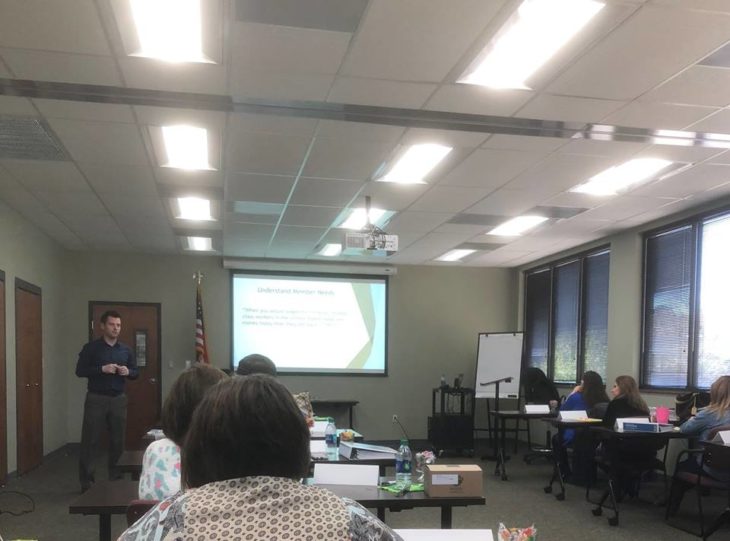 How Financial Counseling Can Change Members' Lives
This week's blog post is featuring Chris Wolgamott, the Director of Financial Counseling and Governmental Affairs at Meritrust Credit Union in Wichita, Kansas. Chris started out as the only Certified Financial Counselor with the credit union, and has great stories of how the Financial Counseling program can change your members' lives.
The Enhanced FiCEP program is a unique partnership between the Foundation, CUNA's Center for Professional Development (CUNA CPD), credit union leagues and credit unions to train staff who are then able to give professional financial counseling and education to help members better prepare for their future and to assist when they are faced with financial difficulties.
Here are personal success stories that Chris has had during his time as a financial counselor:
Meritrust Credit Union has 3 full-time financial counselors that cover 15 branches in 3 markets. We started offering financial counseling as a service in 2011 with only one financial counselor. Our counseling department has grown to a place that, in 2016, we held about 850 counseling appointments between the three counselors. A significant number of the counseling calls we receive are thanks to referrals from our front line staff, collections department, lending department, call center, real estate and more. We promote the financial counseling service on our on-hold music, a page on our website and in-branch TV screens. However, based on conversations with members and how many referrals from employees we received, a significant portion of the  financial counseling appointments are generated from referrals from our employees who recognize that a member could use financial guidance and assistance.
We have countless stories of success (and a few failures) in financial counseling. We try as hard as we can to benefit every member, but at the end of the day, our members are the ones who make financial decisions, and we hope we have empowered them to make the best decisions possible.
Recently, I had a young couple that applied and were denied a car loan. Their credit scores were not great, and the reason for the denial. Instead of turning them away, a thoughtful employee sent them to a financial counselor. Within three months of their initial meeting, they had improved their scores over 100 points and were approved for an auto loan at a very reasonable rate.
I have counseled many single mothers who needed someone to help them budget and then keep them accountable. It's always a huge boost to my day when they give you the "I understand this now" look, and realize that budgeting isn't all that  difficult once you've practiced. One woman in particular was about to file bankruptcy, and she came to me as a last resort. She had to make some tough decisions, like moving back in with her dad as a woman in her upper 20's. She put in the hard work and two years later, her credit is now in good shape, she stays on budget most months, she has not bounced a check in a very long time, and she feels confident in herself.
"Financial counseling has benefited me. As a member, I am able to work with a great financial advisor who didn't judge me for the situation I was in and was always in contact with me and worked with me. I was able to get debt free within a year and learn how to manage my money. Even though I may not need to see him as much, whenever I have a question or need advice he makes me an appointment. I appreciate and am so thankful that Meritrust had this program because I don't know how I would have gotten out of my situation."
Lastly, I recently helped an older member through a short sale of her vehicle so she could move out of state to live with relatives. With help from our collections department, we showed her the best alternatives she had to keep her credit as unaffected as possible while protecting both the member and the credit union from losses.
Every member is different and every situation is unique. Knowing that we are helping people, whether we are teaching a class, meeting with a member or mentoring a young adult, makes the job truly fulfilling.
These are just a few inspiring stories of how people's lives were changed because of financial counseling. For more information about the FiCEP program, visit our website at www.ncuf.coop/financialcounseling. If you have any success stories you'd like to share, please comment below!