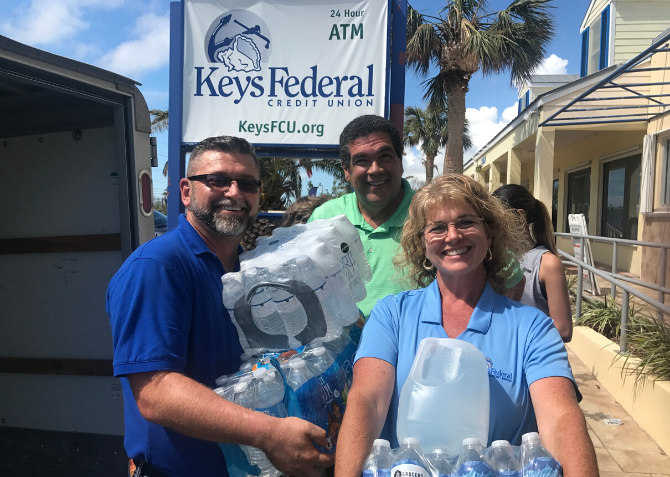 Disaster Preparedness Webinars Recap
With the official start of hurricane season coming on June 1st, the Foundation wanted to help credit unions and employees prepare for disaster during the pandemic. So, we partnered with the Cornerstone Credit Union Foundation, LSCU, Cornerstone Credit Union League, and the Southeastern Credit Union Foundation to host two webinars that included disaster preparedness experts to provide invaluable insight and answer questions about the "new normal" we're facing.
Our first webinar, "United. Strong. Ready: Credit Union Disaster Preparedness in the New Normal", featured Christi Collins, a preparedness behavior change branch chief from FEMA, and Valerie Moss, the senior director of compliance at CUNA. A few important takeaways from Christi's presentation were:
Download the FEMA app to receive real-time alerts and learn safety tips for preparing for different disasters
Create an Emergency Financial First Aid Kit to keep all of your household, financial, and personal information convenient, which helps with your recovery.
Because of COVID-19, FEMA is recommending that individuals evacuate to shelters if there are no other options available. Shelter in place or evacuate to the house of a family member or friend instead.
Valerie shared additional helpful tips for credit unions and business continuity:
Test your written disaster recovery/business continuity plan annually and update it regularly.
Keep copies of vital records far off-site in order to preserve them.
Keep emergency contact information on-hand for employees, board members, and other important contacts.
In advance, identify other places in advance where branch operations can resume if your branches are unavailable for vital financial services.
Password: 7y&t0F8Q
Our second webinar, "United. Strong. Ready: Employee Disaster Preparedness in the New Normal", disaster preparedness expert Chris Washington from Constant Associates discussed steps that individuals can take on their own in order to be ready for disasters.
Make a 72-hour kit for each member of your family and make sure they are easily accessible. These kits should contain water, food, first aid kit, emergency radio, and duct tape, among other things.
Develop a family communication plan for an emergency to check on others and let others know you're okay.
Create an evacuation plan. Practice the plan, have multiple routes, and different places you can go to.
If you have to shelter in place, identify a safe room and make sure you have a smoke alarm, carbon monoxide detector, alternate light sources and batteries, and non-perishable items.
Password: 5w%722iM
View Chris Washington's slide deck here.
We hope that everyone enjoyed the presentations and learned more about how to prepare for disaster during the pandemic. Thank you to all of our guest speakers for taking the time to share their expertise in the field of disaster preparedness!