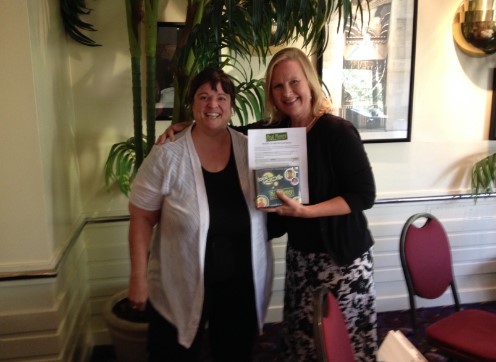 Biz Kid$ Helps Virginia Educators Meet State Economics & Personal Finance Standards
Credit Unions Care Foundation of Virginia used the Biz Kid$ program at Virginia Real Money Experience Teacher Trainings to help meet the states' Economic and Personal Finance Standards of Learning.  Credit Unions Care Foundation of Virginia received support for this initiative from the National Credit Union Foundation (the Foundation) through a Biz Kid$ Financial Education Grant.
"The Biz Kid$ program provides the necessary tools to help educators deliver financial lessons and we know that teachers in Virginia now have the resources to help their students build a better financial future," said Danielle Brown, Director of Development and Donor Relations at the Foundation.
Virginia is one of the few states in the country where high school graduates have to pass a class in economics and personal finance to get their diplomas.  When these standards were put into law, no resources were made available to help teachers deliver them in the classroom.
"In Virginia, there are 19 Standards of Learning that cover both Economics and Personal Finance," said Dawn Lindley, Director of Marketing & Financial Education at the Virginia Credit Union League. "These standards have to be taught to all of our high school students before they graduate.  To help teachers out, our Financial Education Committee volunteers have been doing teacher training workshops over the years, but we were only able to help teachers with the Personal Finance Standards."
In order to fill the gap and cover the Economics Standards, the Real Money Experience Teacher Trainings were held in Virginia to introduce teachers to the Biz Kid$ program.  The Biz Kid$ program has episodes and material that fulfills each of the 19 state requirements.
After attending one of the workshops, one of the teachers said, "I think Biz Kid$ is an awesome learning tool to use. Even if a teacher doesn't possess the starter kit, the website has so many great resources to use!  I can't wait to use it in my classroom in the fall."
A total of 120 teachers attended the three different workshops, and every school in attendance received two sets of the Virginia Biz Kid$ Starter Kits to be used to teach financial literacy concepts to high school students.
"The most exciting thing about receiving this Biz Kid$ grant is that it enables us to give the teachers a fun and effective set of episodes that touch the Economics requirements too," said Lindley. "This grant is a gift that has created a ripple effect through credit unions, our schools, and ultimately thousands of students.