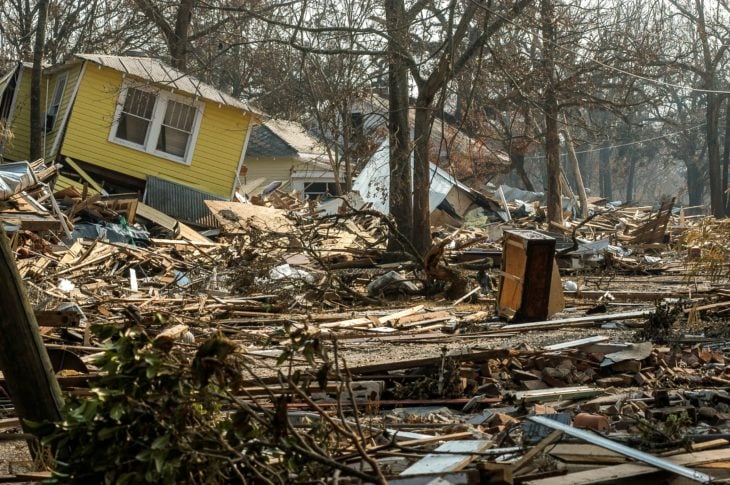 A Walk Through CUAid History: 2005 Hurricane Katrina
June marks the beginning of hurricane season and at the Foundation, we are trying to raise awareness for disaster preparedness all month. While it's something that you hope never happens to you, it's important to be armed and ready in case it does.
At the Foundation, we work to ignite, inspire, and respond. These are our three pillars of critical work that we do, with the last part – respond – referring to disaster relief. As a catalyst in the credit union movement, the Foundation often convenes resources to help people. CUAid is a great example of this as it brings the entire industry together to respond to those in need.
We want to take a walk through history this month looking back and remembering some of the biggest natural disasters that have affected our credit union family. The first time that we helped pull the credit union system together was in response to Hurricane Katrina in 2005.
The effects of Katrina were beyond devastating.
"Early in the morning on August 29, 2005, Hurricane Katrina struck the Gulf Coast of the United States. When the storm made landfall, it had a Category 3 rating on the Saffir-Simpson Hurricane Scale–it brought sustained winds of 100–140 miles per hour–and stretched some 400 miles across. The storm itself did a great deal of damage, but its aftermath was catastrophic. Levee breaches led to massive flooding, and many people charged that the federal government was slow to meet the needs of the people affected by the storm. Hundreds of thousands of people in Louisiana, Mississippi and Alabama were displaced from their homes, and experts estimate that Katrina caused more than $100 billion in damage."

via History Channel
Based on feedback from the affected Leagues and other credit union officials on site, the most pressing issue at the time was meeting the basic day-to-day needs of credit union and League employees and volunteers so that the credit unions could become operational as quickly as possible to serve their members.
The credit union system as a whole stepped up and generously raised $3.5 million dollars with 100% of donations going to those in need. It was truly "people helping people" in action, showcasing the credit union difference.
"Normal ceased," said Charles Elliott, President/CEO at the Mississippi Credit Union Association. "The way things were ended. People lost their past, their present and their future. For some…there was no evidence they ever existed! However, affected employees were overwhelmed to realize they were part of a credit union movement much larger than Hurricane Katrina. While they may have lost everything in their lives, they never lost hope…that tomorrow will be better than today. Your empathy, prayers and unbelievable generosity brought them to tears. It is impossible for you to comprehend the impact you made in their lives. For that, we remain eternally grateful!"
Charles Elliott was given a 2007 Anchor Award from the Foundation in honor of his selfless leadership and dedication to helping people recover from Hurricane Katrina. The Anchor Award is given from time to time at the Foundation Dinner Presenting the Herb Wegner Memorial Awards and is awarded at the discretion of the Foundation's Board of Directors. Individuals who have lived out the mission of the Foundation while providing extraordinary support and advancement of the credit union movement are honored with this coveted award.
Click below to see how the Foundation and the credit union movement responded to Hurricane Katrina, and how the grant recipients felt:
Without the National Credit Union Foundation, there is no CUAid. We hope that during this critical month you consider a
donation to your Foundation
so that we can continue to help people get back on their feet after a disaster hits.
Stay tuned for more resources this month on disaster preparedness. If you have any resources, stories or tips you would like to share, please email us at
[email protected]
.
 
Photo via Good Free Photos