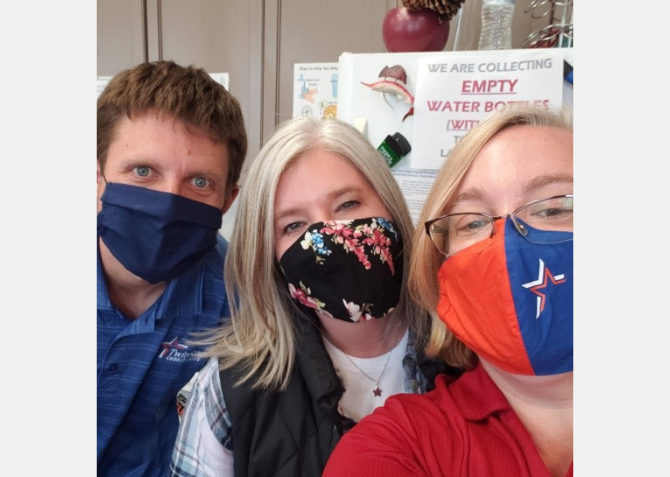 2020 DE Day of Service Recap
 On June 10, Credit Union Development Educators (DEs) from around the globe came together to make an incredible impact in their communities in celebration of the 5th annual DE Day of Service. 
Each year on Day of Service, credit union leaders who graduate from the Foundation's Credit Union Development Education (DE) Program are encouraged to complete projects, volunteer, and commit to acts of kindness within our credit unions and communities. These activities address the 12 Development Issues or challenges that serve as barriers to financial well-being. The Development Issues include credit, diversity & equity, education, employment, environment, health, housing, hunger, inclusion, savings, technology, and transportation. 
We know that this year's service in our communities and DE Day of Service look very different than years past. While many things are being canceled or rescheduled due to COVID, DEs felt it was important to be creative in order to help our colleagues, members and communities that need us now more than ever. In preparation for this year's Day of Service, the Foundation prepared a list of ways for DEs to participate in our new socially distanced world.  
DEs from 14 states participated in the 2020 DE of Service. Thank you to all who participated and showcased the power of the credit union difference! We would also like to say a big thank you to those who donated to the Foundation on Day of Service. Your support helps to continue the growth of the DE Program, and our work in empathy and Financial Democracy.  
See below for a wrap-up of projects completed this year (please note that some projects had DEs from various states): 
Northwest Credit Unions 
DEs from the Northwest region, Washington, Oregon, Idaho, and Alaska, came together to learn more about the work of the African American Credit Union Coalition (AACUC) and encouraged NWDEs to support the organization with a donation as part of DE Day of Service.  
Mountain West Credit Unions – Arizona, Wyoming, Colorado 
DEs from the Mountain West region, Arizona, Wyoming, and Colorado, recognized that their communities are being impacted by the loss of jobs, early closures of schools, and shortage of food available at local food banks. For example, in 2019 for Colorado, schools throughout the state provided 1,483,982 meals to kids. Since schools were closed back in March, many children are unable to rely on receiving at least those few meals that they would get from the schools. This same situation holds true for Arizona and Wyoming. Based on this need and the number of individuals out of work currently, the DE alumni in the Mountain West region have chosen to hold a virtual food drive that began on Day of Service and will run through International Credit Union Day, October 15th, to support the solution of hunger in our communities. Their goal is to raise $50,000 during the fundraising period. 
Washington 
TwinStar Credit Union DEs spent the day volunteering at the Thurston County Food Bank.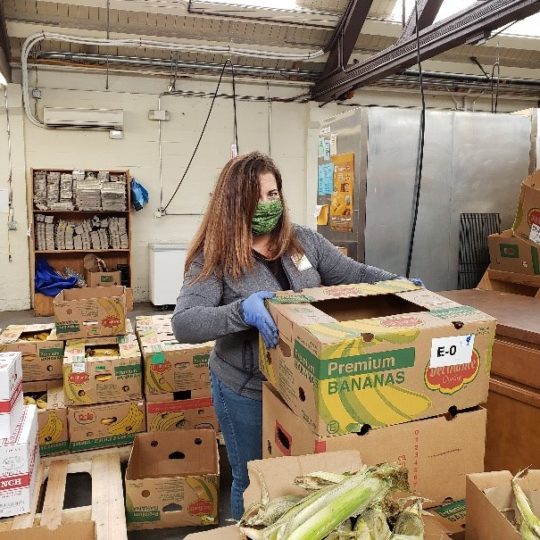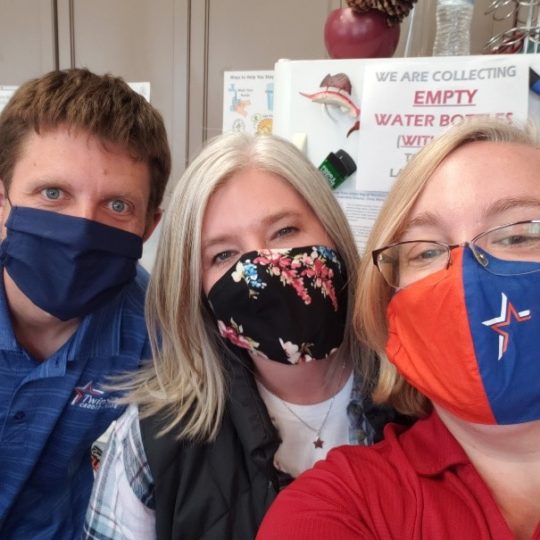 Wisconsin 
DE Mark Volz from Corporate Central CU spent the day volunteering at Feeding America and donating blood.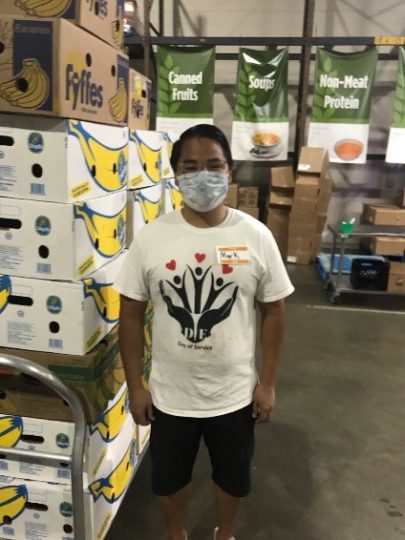 A group of Madison-area DEs volunteered at Second Harvest Foodbank, repackaging almost two full pallets of chicken to be distributed to their partner food pantries.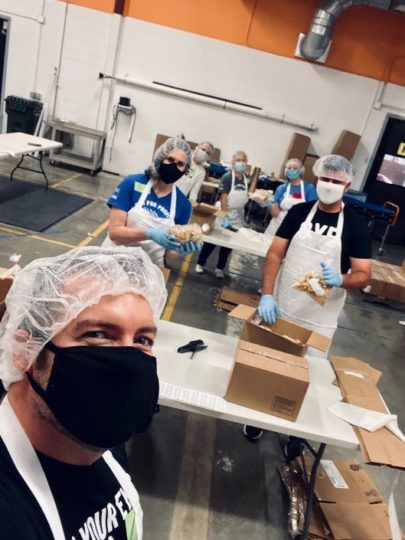 Texas 
Since the annual DE Day of Service in 2016, staff and CUDEs at Tarrant County's Credit Union have found unique ways to give back to the community that address various Development Issues. This year, TCCU DEs completed 2 projects. They made 25 doggie bags (and just extra bags of food) to donate to Tarrant County Hands of Hope. TC Hands of Hope is a homeless outreach that serves Tarrant County's unsheltered homeless population. As we know, a lot of the homeless remain unsheltered because they have dogs and shelters do not allow animals. TCCU felt these "hope bags" would be a way to help their furry companions. 
They also sent masks that say "You've Got a Friend in Me" to 12 small credit unions in their area of the state.  These credit unions are struggling during this time and their staff is tired, anxiety-ridden and just plain beat down over this pandemic.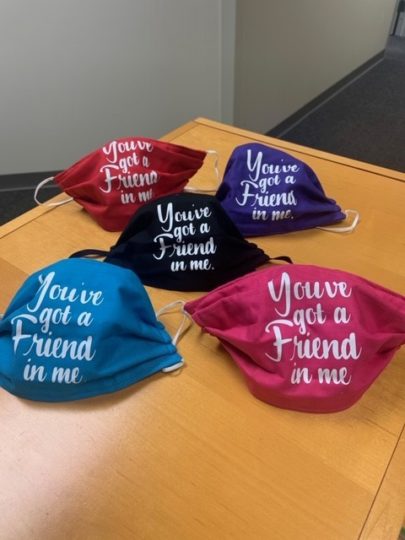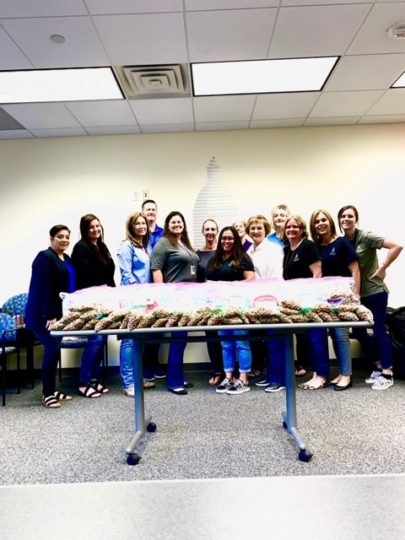 Arizona 
DE Lisa Friedenberg from Pima FCU decided to support local by picking up lunch for her family from a great family-owned Hawaiian BBQ restaurant in her neighborhood and while there, she overheard a woman at the next register realize that she forgot her wallet and ask the manager if she could please place her order and then come back to pay for it.  Lisa thought, 'here's a chance to make a small difference' so she offered to pick up her lunch too.  The woman was so appreciative and then through tears told her 'you have no idea what this means to my husband and me, this has been such a hard time for us'.  Small acts of kindness like this make all the difference for people.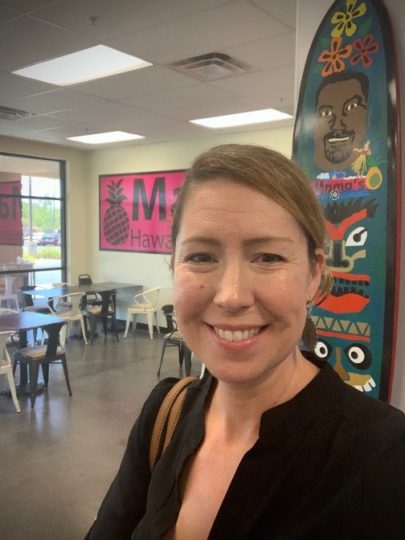 Connecticut 
Members Credit Union DEs filled up reusable bags with essential items and donated them to a local Connecticut non-profit organization called Building One Community, whose mission is to advance the successful integration of immigrants and their families.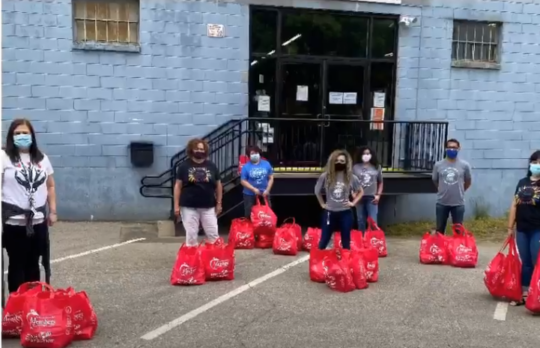 They also helped 5-year-old Kai who was sad about coronavirus and wanted to do something to help. Kai and his parents set up a food drive for the local food bank. Members CU was happy to contribute food to help him help others. Way to go, Kai!!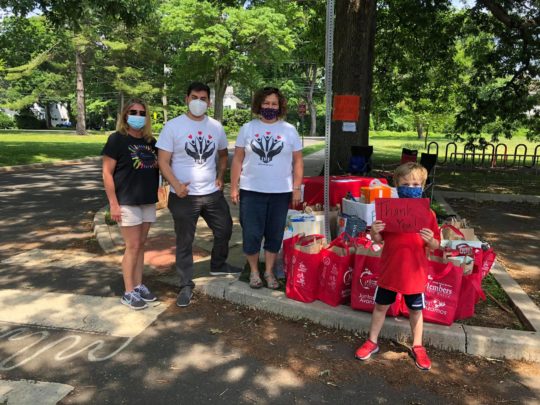 North Dakota 
DE Nanci Wilson from UFCU has been spending time filling makeup bags full of supplies a female needs to get them through 3 months. As of Day of Service, Nanci had filled and donated 254 bags to a local North Dakota community center. Nanci is continuing to collect supplies and spent the day creating additional kits bringing her total to 329 bags.  
Pennsylvania  
DE Deb Mozal from Community Regional CU shared that a local Pennsylvania community college partnered with a  local coffee shop to deliver coffee and pastries to front line workers. Community Regional CU donated to the fund for local front line workers in recognition of Day of Service.  
Thank you to all who participated and showcased the power of the credit union difference! 
If you participated in the DE Day of Service and we missed you – we apologize! Please send your service project to [email protected] so we can be sure to highlight it. Thank you!