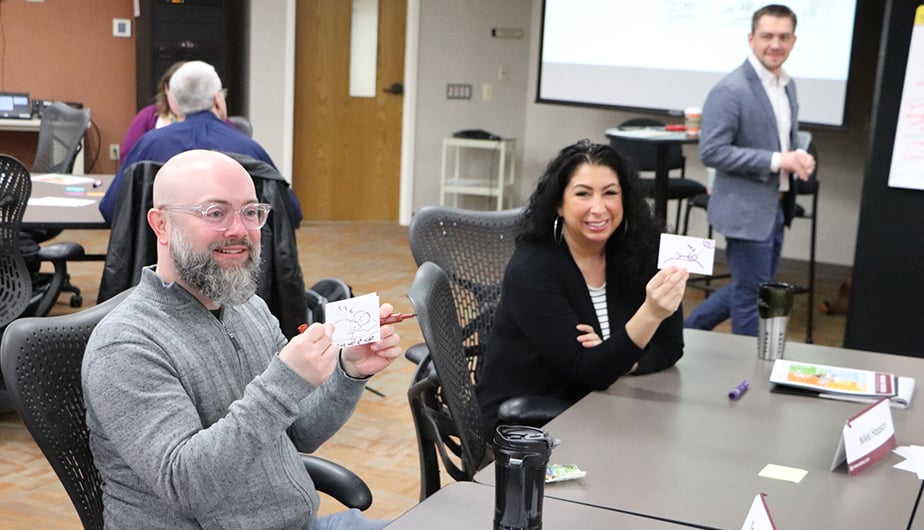 Exploring Why™ Workshops
Help your employees understand the "why" behind their work to drive greater value for your members and organization.
Register for 2021 Workshops
The Foundation is hosting online Exploring Why™ Workshops tailored to important audiences within the credit union movement. These workshops provide a cooperative learning environment that builds an understanding of the credit union difference and how we can leverage that difference to improve our organization's culture and service.
| | | |
| --- | --- | --- |
| Thursday, June 24 | Young Professionals | REGISTER |
| Wednesday, July 14 | CUSO Employees | REGISTER |
| Tuesday, July 27 | New Employees | REGISTER |
Commitment: Each one-day workshop will run from 10 am – 4 pm CST with breaks included. Participants should be prepared to join us for the full event with both audio and video as this will be an experiential workshop. Group activities, participation, and many visual aids to be displayed on screen.
Cost: $99 per person
Class size: Workshops have limited seating available. If you are considering registering 6 or more individuals for a single workshop, please contact the Foundation for support.
Registration for all workshops will be open starting March 23, 2021, with limited seats available. If you have any questions about the Exploring Why Workshops, please email Maggie Wolff.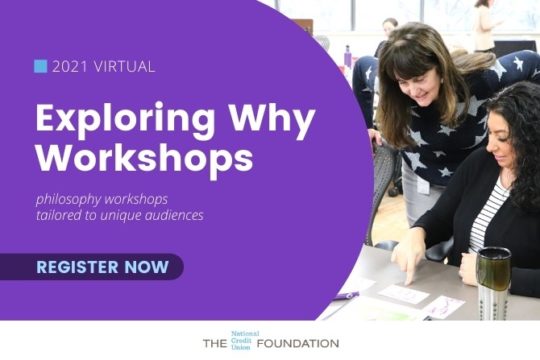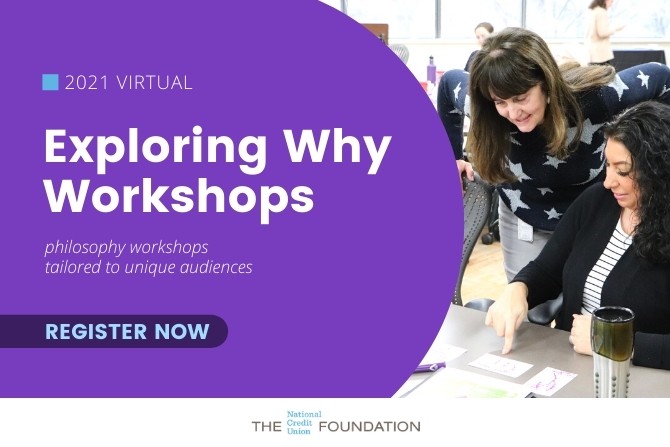 The Foundation's Exploring Why™ Workshops
The Foundation's Exploring Why™ Workshop is a customizable, experiential training that credit unions and system partners can use to help their employees connect to the credit union difference and discover new and better ways to drive value for your members and organization. 
The Credit Union Difference

Attendees will learn about the structural and philosophical differences between credit unions and other financial institutions as well as how to leverage those differences to create competitive advantages in the marketplace.

Mission & Members

Attendees will connect with your organization's mission and purpose and explore the connection between your business and members' financial health. 

Our Aligned Values

Attendees will link their personal core values with the values of the credit union movement and understand how we can live our values to meet existing and future challenges in the marketplace. 
Get Content Tailored to Your Needs
Using core lessons from the Foundation's signature Development Education (DE) Program as a lens, each Exploring Why™ Workshop is tailored to fit the needs of the specific organization or audience. Workshops can be delivered in half-day, one-day or two-day format. Foundation staff will work with you to determine the content and activities that best fit your goals.  
Experiential group activities and lessons can include: 
The Credit Union Difference

Understanding credit unions' structure, cooperative principles and history.

Core Values Assessment

Discover alignment between individuals, organizations and the credit union system.

Financial Health of Consumers

Data and insights to better understand what members are facing today, root development issues and the impact on business.

Empathy in Banking

The application of emotional intelligence and empathy in financial services.

Drive Value for Members

Review of your organization's history, mission, values, offerings and strategy to underscore the purpose behind your business and value to members.

Specialized Topics

Specific lessons on topics like diversity, equity & inclusion, multicultural outreach and other business area focuses depending on your organization's objectives.
I've been a credit union member since I was a kid and when you've worked at an organization for as long as I have, you appreciate what credit unions are and what they represent as far as the 'people helping people' philosophy. The last couple of days through the Exploring Why Workshop catapulted my appreciation and understanding of what we are all about. What an honor it was to take part in a workshop like this.

CUNA Mutual Group employee after attending an Exploring Why Workshop
You might also consider...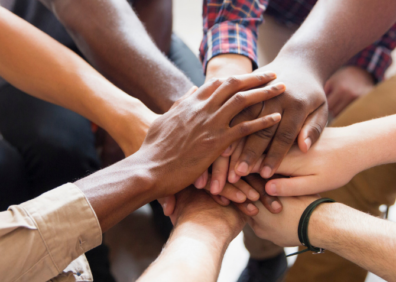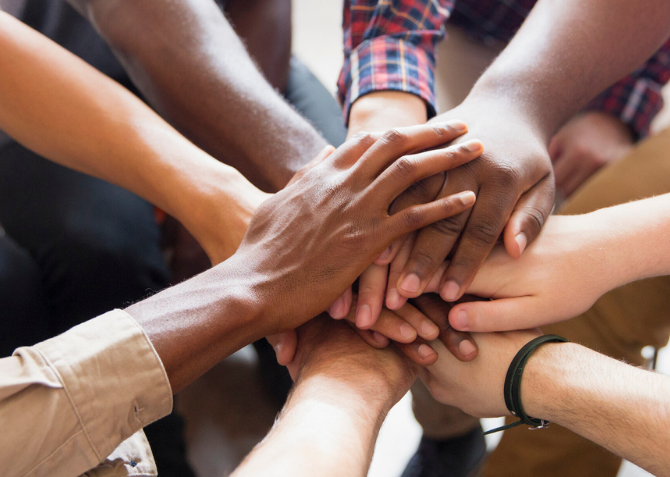 Reinforcing Our Values and Building Self-Respect
2020 has been a rollercoaster in both our personal and professional lives. To help credit union leaders navigate these tough times – and help our colleagues do the same – the Foundation recently hosted […] Find out more »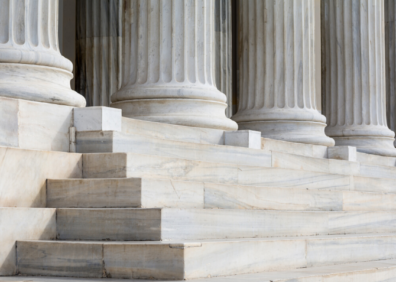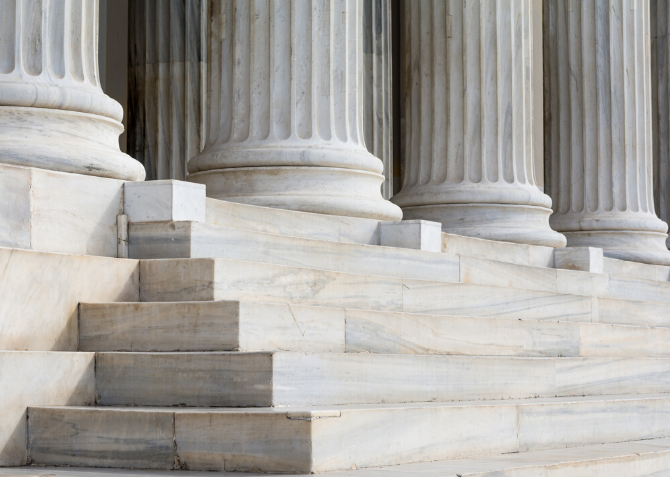 What Do We Stand For?
By: Chad Helminak Among everything we collectively find abhorrent about George Floyd's death and the injustices that so many fight against, we must also consider what we stand for. Economic […] Find out more »
Get in touch
For more information on Exploring Why Workshops
Contact Maggie Wolff, Development Education Manager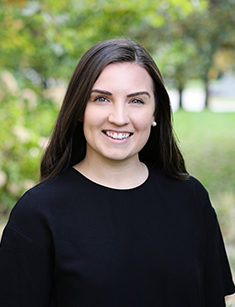 Maggie Wolff
Development Education Manager
Maggie works directly with the Director of DE & Cooperative Culture to coordinate and execute the Foundation's signature DE Program as well as managing DE Alumni relations.