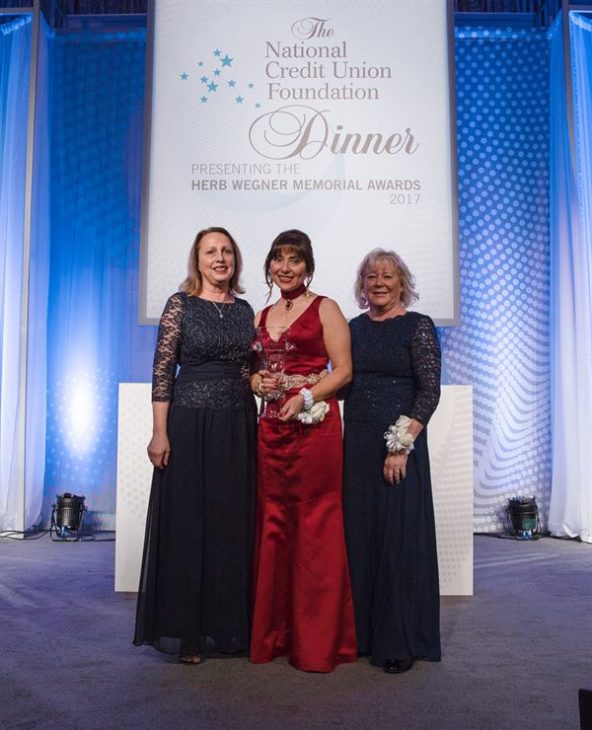 Wrap-up of the 2017 Foundation Wegner Awards Dinner
Monday marked a night full of entertainment, inspiration, and passion in Washington, D.C. as the National Credit Union Foundation presented the 29th Annual Herb Wegner Memorial Awards. This year was particularly memorable, as we celebrated the 35th anniversary of the DE Program, the first time that we had all of The Cooperative Trust "Crashers" at the dinner, and we had a record attendance of over 900 credit union professionals from across the country and across the world!
Gigi Hyland, Executive Director at the Foundation, said during the dinner, "When you look around this room full of credit union people, you can't help but feel like you are with family." Well, Monday night was quite the family get-together! Over 900 credit union people, one big happy family, gathered to celebrate those who have dedicated their lives to the movement that we all love so much. It was a night that will not soon be forgotten.
We were honored to recognize two individuals and one program at our awards ceremony. We first presented Stan Hollen, retired President/CEO at CO-OP Financial Services, with an Outstanding Individual Achievement Award. Click here to see Stan's award video.
Next we honored The Cooperative Trust from Filene Research Institute for Outstanding Program. Click here to learn more about The Trust through their award video.
Last, but certainly not least, we honored Maria Martinez, President/CEO at Border Federal Credit Union, for Outstanding Individual Achievement. Click here to see Maria's award video.
Congratulations to our three winners, we cannot thank you enough for the work that you have done to keep our movement moving forward. Also, thank you to all those who came and celebrated with us, we hope you left inspired and rejuvenated for the all the amazing work that credit unions are doing to improve people's financial lives.
More information about the evening, including quotes from the winners, can be found here. We look forward to seeing you all again next year, and let us remember to always "Keep Purpose Constant".