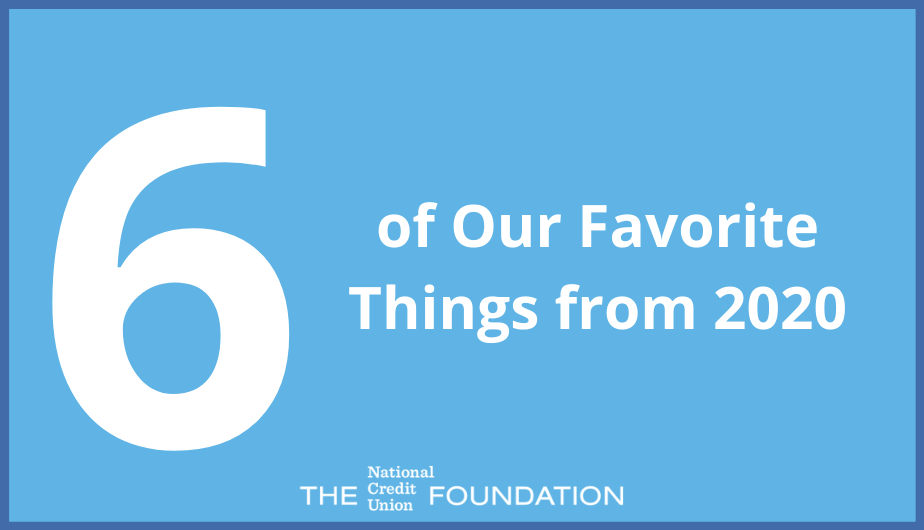 Six of Our Favorite Things From 2020
2020 was more difficult than anyone thought it would be at the start of the year. Because of the COVID-19 pandemic, the Foundation team had to quickly pivot and adapt to the needs of the rapidly changing environment around us. Despite the challenges, we're proud of what we were able to accomplish in 2020 and look forward to continuing to live and breathe our values in 2021. Read below to learn more about 6 of our highlights!
Foundation Field Notes Series

Our Foundation Field Notes video series launched in the fall and interviewed leaders across the credit union system about how they're putting people's financial well-being at the center of their strategy. Learn about our featured guests including:

Exploring Our Values Online Resource

Launched our free, self-guided Exploring Our Values online learning resource, which has been used by 200 individuals from over 120 organizations. The course teaches the fundamentals of credit unions' cooperative structure and principles, learnings that are more important in 2020 than ever before.

CUAid App & Disaster Relief Grants

In July, we launched our free CUAid Disaster Recovery app to help credit unions strengthen their internal disaster preparedness plans and share critically needed resources with others when disaster strikes. In addition to navigating a pandemic, there were numerous natural disasters that impacted members of the credit union movement. Thanks to the generosity of our movement, we were able to grant $437,700 to 522 credit union employees & volunteers from 71 credit unions to help them when they needed it most.

Helping Credit Unions Put Empathy Into Action

Empathy has become a topic for conversation now more than ever as credit unions strive to find ways to help their members get through this pandemic. Early in the pandemic, we partnered with CUNA to host a four-session eSchool, Putting Empathy into Action During a Pandemic. Content included:

How to live our values through change
How to live through a pandemic in someone else's shoes
Avoiding pitfalls and practicing empathy for organizations
Avoiding pitfalls and practicing empathy for individuals

We also provided tangible steps to take when practicing empathy that can be found here.

Financial Well-being Grants

Our 2019-2020 grant cycle awarded $75,000 to five credit union organizations to help expand their programs, grow their employees' knowledge & understanding and help their members more efficiently. Grantees included:

Pivoting to Virtual DE Training

The Foundation pivoted our signature Credit Union Development Education (DE) Training to a virtual learning environment with two sessions and 96 graduates. Our virtual program broadened our level of inclusion to individuals that wouldn't be able to travel and attend in-person DE (ex. single-working mothers or people with health issues and physical limitations), and a reduced cost allowing for those from smaller organizations to attend. Learn more about the October and November graduates here, and we look forward to more virtual trainings in 2021! Read about our first graduating virtual class here and the second class here.
We're proud of all of the things we've been able to accomplish throughout the year and we are looking forward to what's coming up in 2021! The Foundation Celebration will reunite our movement in a virtual setting and catch up with some of our favorite past Wegner Award winners, our virtual CU FinHealth Conference will teach individuals how to improve the financial health and well-being of their members & employees and additional virtual DE Training sessions will meet credit unions where they are now and help grow the next generation of credit union leaders.
From our Foundation family to yours, we hope that you have a happy and safe holiday season!