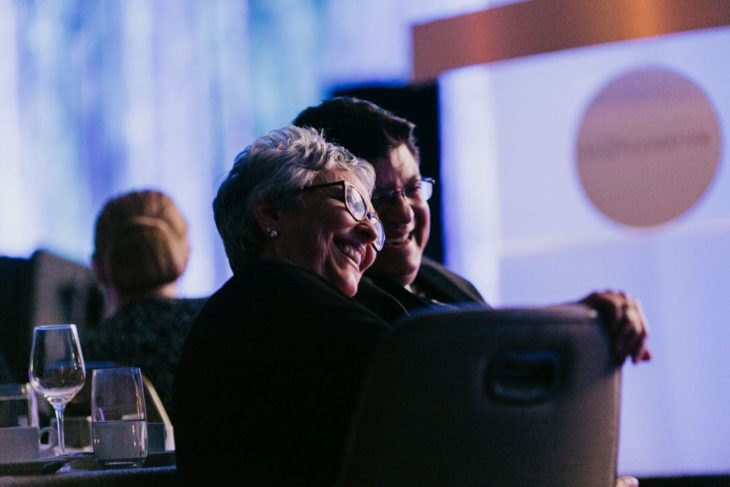 Root Yourself in Purpose at the Wegner Dinner
"Never in my wildest dreams would I have thought that I would be receiving this tremendous recognition. As one of the thousands upon thousands of credit union champions, I work every day to improve the lives of people and believe me it takes the entire village. I am honored and quite humbled to be singled out for my contributions. The legacy of Herb Wegner and the past recipients is inspiring and will work hard to uphold the legacy." – Diana Dykstra, 2019 Wegner Winner for Outstanding Individual Achievement.
It is our favorite time of the year here at the Foundation! We are just one month away from the annual Herb Wegner Memorial Awards Dinner happening Monday, February 24th during the CUNA GAC. The opportunity to be surrounded by over 900 other passionate, inspired credit union professionals from around the globe is truly special.
Our theme for this year is "Rooted in Purpose" because one of the aspects of the Wegner Awards that is so special is the reminder of the true meaning and purpose behind credit unions. Credit unions were created to help people and it's what sets us apart from other financial institutions to this day. The dinner serves as a powerful reminder of those roots and why it's important to never forget our grounding purpose.
We are thrilled to be honoring three incredible industry luminaries this year; John Fiore, Teresa Freeborn and Maurice R. Smith. You can learn more about each of these three awardees and why they were chosen here.
Never been to the dinner before? We love seeing new faces at our event! Hear from former Crasher Christian Hartley on why the experience was so special for her as a first-timer and newer to the credit union movement. You can also learn more from a former Wegner winner Susan Mitchell on what the dinner was like from her perspective.
Whether you've been to the dinner before or thinking about attending for the first time, we can promise you this – you WILL leave energized, empowered and motivated to go out and make a difference in your community. We can also guarantee that you will enjoy an evening of entertainment, good food and even better company.
We will once again be joined by our wonderful Emcee, Andy Janning and Mike Lawson from CUbroadcast will be doing live from the red carpet interviews. So grab your red carpet attire and join us on February 24th in Washington DC!
Tickets and sponsorships still available for purchase on the Foundation's website.