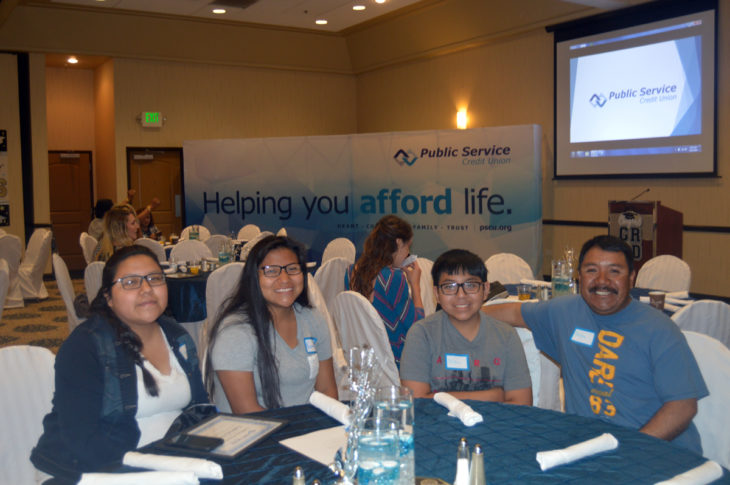 Public Service CU – Serving Scholarships with Food & Inspiration
Almost every credit union has a scholarship program right? Typically, it involves money for college decided by a committee reviewing essay questions, voting and then the big announcement at the credit union's annual meeting. Maybe a check presentation. All good stuff.
I was intrigued recently by what Public Service Credit Union in Lone Tree, Colorado did for its scholarship recipients. The credit union, along with its Dedicate to Graduate Foundation, awarded 30 students with college scholarships at their inaugural PSCU Scholarship Banquet in June as part of the credit union's new Community Scholarship Program. Students were recognized for their outstanding academic achievement and community involvement with scholarships ranging from $1,000 to $5,000 each.
What a neat idea! The recipients and their parents were invited to attend the banquet along with staff from the credit union and schools. I talked to Steve Ferrero, SVP/ Community Involvement & Advocacy, and Jenifer Doane, Director of PR & Community Involvement, at the credit union to learn more.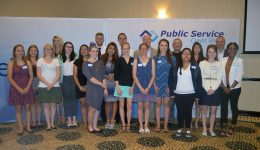 A total of $44,000 was awarded to students from Denver, Fort Collins and Colorado Springs. The Community Scholarship was given to 28 students representing high schools in each of PSCU's 28 branch communities. They also awarded a special $5,000 Community Leadership Award to a high school student for her 400 hours of volunteer service and leadership.
The event included a keynote speaker as well, Sonny Lubick, the legendary former Colorado State University football coach. Sonny shared words of wisdom with those in attendance.
"Sonny is an inspiration both on and off the field," Ferrero said. "The students and parents enjoyed his stories of triumph and disappointment and how both contributed to who he is today."
Public Service CU's Community Scholarship Program is part of their new Community Involvement Initiative that also includes PSCU Gives, a branch donations and employee volunteer program.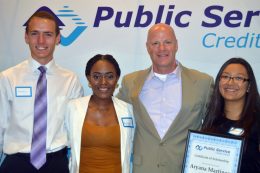 I think this is a great way to take a scholarship program to the next level, with something as simple as a banquet breakfast to celebrate your awardees. It's a great way to build a relationship with them and their families, and adding an inspirational speaker is icing on the cake.
Does your credit union distribute community scholarships in a unique way? Let us know in the comments!
Related Foundation resources: