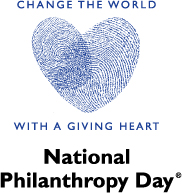 National Philanthropy Day – You Can Make the Difference
November 15th is designated as National Philanthropy Day, a day to celebrate charitable activities in the form of donated financial, in-kind and volunteering support. As a 501(c)(3) ourselves, we appreciate this day and all those who lend their support to the Foundation. We also want to acknowledge all the incredible things that credit union organizations and employees do every single day to make a difference in people's lives.
Today, we want to share a great example from CUNA Mutual Group about the difference a few employees made after being inspired by a workshop put on in conjunction with the Foundation:
The 'people helping people' philosophy of the credit union movement is embedded within our organization. But it doesn't have to stop at the organizational level. As individuals, we also have a profound and immediate impact on the communities we serve.

Edgar Hernandez Multicultural Strategy Manager, and Michelle Larson, Senior Communications Strategist, attended a two-day workshop called "Leveraging the Credit Union Difference" (LCUD). And together, they helped a father of two who was "desperate for work" and facing eviction.

The National Credit Union Foundation and CUNA Mutual Group's workshop explores the cooperative roots of the credit union system and features exercises to help attendees internalize the financial fragility many credit union members face. After attending the first day, Edgar discovered a flier posted by a man named Dan while out for a run.

"We were just talking about how the consumers we serve are often in dire financial straits. That was in my head," said Edgar, who called the man and gave him a $100 bill he happened to be carrying. "Dan had put his ego aside. I could empathize with that, so I told him to just take the money and find a way to pay it forward."

The next day, Edgar shared his experience with the class, and Michelle set up a public GoFundMe page. It quickly spread, generating nearly $800 in donations. Their generosity moved Dan to tears.

"This reinforced the power of what we learned in class," said Michelle. "Our credit union partners are there to help people when they need a helping hand, they do this every single day. We, as individuals, can do it too."
Happy National Philanthropy Day! We hope this story inspires you to give back in some way, whether it be a donation to the Foundation or another worthy cause that you care about. Get out there and make a difference.