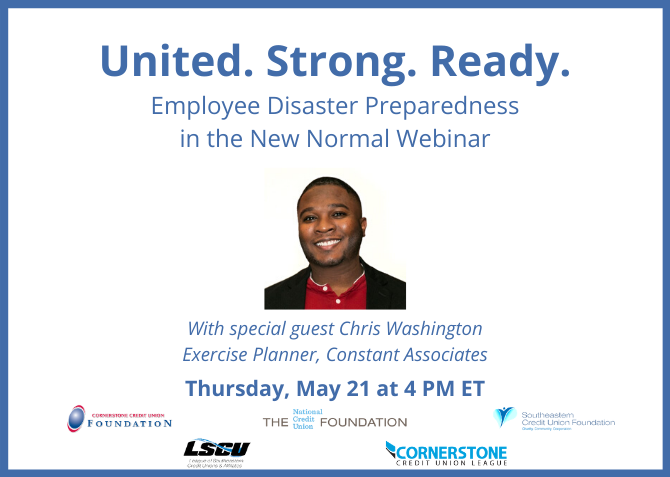 Free Webinar for Credit Union Employees: Disaster Preparedness in the New Normal
Just as credit unions need to prepare for a natural disaster, credit union employees need to think about how they can be prepared as well. Our FREE webinar on this topic, "United. Strong. Ready: Employee Disaster Preparedness in the New Normal," will be held on Thursday, May 21st at 4 PM ET. Join us as Chris Washington, a disaster preparedness expert with Constant Associates, discusses what you can do personally to get strong and ready to face natural disasters that may happen this summer and fall.
Chris has extensive experience in exercise design at the federal, state and local levels. He has worked in public health, emergency management and project management and his specialties include strategic national stockpile exercises, healthcare and hospital preparedness, coordinating with local officials, infrastructure disaster management and points of dispensing/distribution.
Prior to joining Constant Associates, Chris served as a Regional Preparedness Coordinator for the Texas Department of State Health Services (DSHS) Public Health Region 2/3 (PHR 2/3) coordinating public health preparedness efforts with local, regional, and state officials. This role also involved planning healthcare emergency, strategic national stockpile, and emergency management exercises internally and with community partners. DSHS PHR 2/3 served over 8 million people and encompassed the greater Dallas-Fort Worth metropolitan area.
He holds a Masters in Public Health (MPH), Health Policy and Management from Texas A&M University Health Science Center and a Bachelor of Science in Biomedical Sciences from Texas A&M University – Kingsville. He also holds the following certifications: FEMA- Master Continuity Practitioner, FEMA- Professional Continuity Practitioner, Texas Department of Emergency Management- Advanced Professional Series, Center for Domestic Preparedness- Instructor Training Course, Texas A&M Engineering Extension Service- Infrastructure Disaster Management. Chris has been honored for his work several times, receiving: the Regional Service Excellence Award, NCTCOG Emergency Preparedness Planning Council, 2018; Certificate of Recognition for Hurricane Harvey, Texas Department of State Health Services, 2018; Regional Director's Award of Excellence, Department of Health and Human Services, 2017.