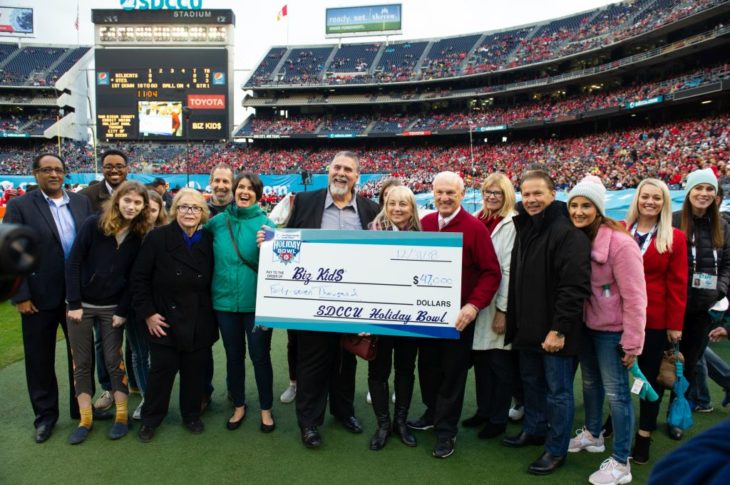 Fiscally Fit Kids
Since its founding over 80 years ago, San Diego County Credit Union (SDCCU) has become one of the largest credit unions in the nation, now serving a diverse community of more than three million people.
"While our membership has grown, our founding principle is still what guides us: People come first and profits second," explained Teresa Campbell, SDCCU president and CEO.
That commitment to people has also been demonstrated on a large scale – last year SDCCU supported more than 75 non-profit organizations and participated in more than 500 community events.
"Our support includes title sponsorships like San Diego County Credit Union Walk MS," Campbell said. "Each year, staff in our branches collects donations and Team SDCCU, which is made up of more than 100 employees and their friends and families, walk to help find a cure for this devastating disease. In the more than 20 years that SDCCU has sponsored the National MS Society, we have raised more than $1.5 million."
SDCCU is also the only credit union in the nation to sponsor a college football bowl game, the annual SDCCU Holiday Bowl. In 2018, the game contributed nearly $50 million to the local economy. According to Campbell, it's "more than just a football game; it's an opportunity for SDCCU to help its hometown thrive. Last year's game, played by the Utah Utes and Northwestern Wildcats, was attended by 47,007 fans. One dollar from every ticket sold was donated to Biz Kid$ to help teach kids about money and business, resulting in a $47,000 donation."
Biz Kid$ is a national financial literacy initiative designed to engage young people and help them develop skills in financial literacy and entrepreneurship. The program features an Emmy award-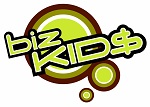 winning television series (created by the same team that produced "Bill Nye the Science Guy") as well as a free classroom curriculum, outreach activities, and a website targeting kids between the ages of 9 and 16. Biz Kid$ is funded by a coalition of 300 credit unions and affiliates through the National Credit Union Foundation.
Since launching its Biz Kid$ Program in 2015, in partnership with the San Diego County and its Office of Education, SDCCU has provided hundreds of Biz Kid$ kits to teachers. "Because the kits can be used year after year, we hope to have an impact on thousands of students in San Diego County," Campbell said. "Research shows that the average high school graduate lacks the basic skills needed to manage personal finances, many young people experience difficulty balancing a checkbook and half of Americans live paycheck to paycheck. The SDCCU Biz Kid$ program is an ideal solution to help bridge the education gap so that today's youth can gain the knowledge and skills they need for a successful financial future."
The Biz Kid$ episodes are based on national standards for financial literacy and entrepreneurship education and have been mapped to individual state standards. "The teachers who receive the program absolutely love it and often times tell us it's the financial literacy solution they have been looking for in their classroom," Campbell said. Students learn the importance of budgeting, saving, and giving back to the community, as well as how to responsibly use credit. The television show features young actors, sketch comedy and profiles of young entrepreneurs.
Biz Kid$ "is a wonderful program to help students build a successful financial future," Campbell said. "One of the great things about it is that it can be easily shared with many educators in one school." In addition to raising funds for Biz Kid$ through its annual sponsorship of Holiday Bowl games, SDCCU regularly hosts "Biz Kid$ Bash" seminars to introduce teachers to the program, and each event includes an opportunity to win a complete Biz Kid$ instructional package. "We are continuing to raise awareness for the program and are constantly looking for opportunities and leveraging other education-focused partnerships to get Biz Kid$ in front of teachers," she said. One example of that effort is a 30-second commercial about Biz Kid$, created by SDCCU, which is played at an annual event saluting teachers.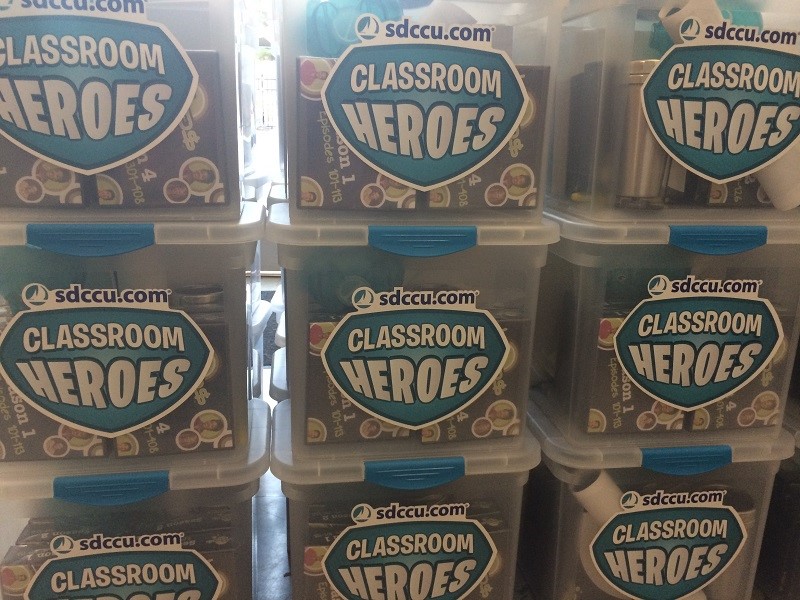 SDCCU's support of local schools takes other forms as well, Campbell explained. "Each month, teachers, students and the community are encouraged to nominate a deserving teacher as part of the SDCCU Classroom HeroesTM program. SDCCU is also the presenting sponsor of A Salute to Teachers, the Broadway San Diego Awards and the Innovative Video in Education Festival and Awards."
SDCCU also partners with the San Diego County Office of Education for the annual SDCCU Stuff the Bus, which last year collected more than 6,000 backpacks and 230,000 supplies for local students experiencing homelessness.
According to Campbell, another goal of SDCCU is making financial wellness education more accessible for adults. "As one of the largest credit unions in the country, we understand that encouraging and maintaining good financial health among individuals in our communities is essential to fostering a healthy, safe and thriving economy. This is why SDCCU is deeply committed to helping members and individuals in the communities where we live and work make educated financial decisions."
"Since 2016, SDCCU has partnered with the County of San Diego in support of the Live Well San Diego initiative to deliver Financial Wellness Wednesdays. As a result, in 2018, SDCCU's finance experts delivered more than 110 presentations that were attended by more than 1,600 people. Financial Wellness Wednesday's topics include Ten Simple Steps to Financial Success, The Psychology of Spending, Raising a Money Smart Kid and many more," she said.
There are 18 incorporated cities in the region "and each of those cities has its own unique population, culture and demographics. Because our charter is open to anyone living or working in San Diego County, in addition to Orange and Riverside counties, our membership is representative of that diversity." SDCCU has more than 40 local branches.
Campbell continued that "with the technological landscape constantly evolving, we're strategically enhancing our technologies, products and services to better serve our members."