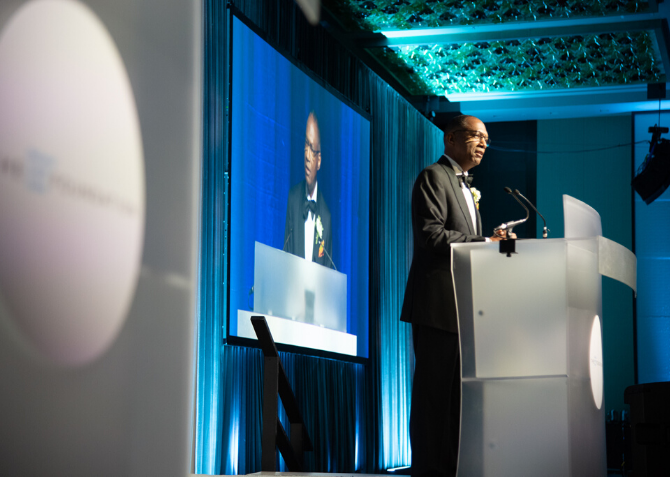 Fiore, Freeborn & Smith Honored at 2020 Herb Wegner Memorial Awards Dinner
The Foundation had the privilege of hosting the highest awards in the credit union movement on February 24th for the 32nd year in a row. The Herb Wegner Memorial Awards are more than just an awards gala, it's an event that captures and encompasses what the credit union difference is all about. With this year's theme of "Rooted in Purpose", the evening's awardees served as a reminder of the true purpose of credit unions.
As Executive Director of the Foundation Gigi Hyland said during her opening remarks, "Purpose: It's a noun – 'the reason for which something is done'. It's also a verb – 'to have as one's intention or objective'. Purpose is a differentiator for us as a movement. You can feel it here tonight, in this room, the energy and excitement that radiates from you all as we gather to celebrate individuals who have lived and breathed the true purpose of credit unions. It all starts and ends with people."
This year's event shattered all previous attendance records with over 1,000 people gathered at the Marriott Marquis in Washington, DC. The Wegner Dinner is not only an awards gala, but the primary fundraising event for the Foundation. Through a text-to-give initiative during the awards dinner, attendees raised over $15,000 to improve people's financial lives through credit unions. Thank you to all who gave!
The evening was hosted once again by returning Emcee, Andy Janning of AndyJanningPhoto.com. Three Outstanding Individual Achievement Awards were given to industry visionaries and leaders John Fiore, Teresa Freeborn and Maurice R. Smith.
The first honoree of the evening was John Fiore, Director, Andigo Credit Union and Director Emeritus, Alloya Corporate Federal Credit Union in Illinois. "I appreciate this tremendous recognition that includes me with the elite group of past recipients honoring the legacy of Herb Wegner," said Fiore. "My contributions of protecting and growing our great movement is small compared to the thousands who have come before me and the thousands that will follow me to ensure that credit unions flourish and continue to exist to fulfill their purpose of helping people."
The second honoree of the evening was Teresa Freeborn, President and CEO of Xceed Financial Credit Union in California. "Over the course of my four decades in the credit union movement, I've been blessed to have experienced many highlights, but receiving this Herb Wegner Memorial Award has to count as the brightest. I am truly humbled to be in the company of such an impressive roster of credit union leaders. I am also grateful to so many mentors, colleagues, friends and family members who have supported, encouraged and inspired me over the years – this award is as much a credit to them and their contributions as it is to me."
The final honoree was Maurice R. Smith, CEO of Local Government Federal Credit Union in North Carolina. "Becoming a Wegner Award recipient is an unparalleled honor in the credit union movement," said Smith. "The award showcases the contributions and commitments of credit union heroes. I am flattered to be mentioned in a similar light as some of the giants in our industry. I salute my fellow award winners Teresa and John. Their stories are inspiring and illuminate the reasons we serve in the field. This is a labor of love. I mean it. To think that we get to help people uplift their lives is a reward unto itself."
You can view each of the awardee honoree videos here. These individuals join 69 past Wegner Awardees since the tradition began in 1989 in honor of the Credit Union National Association's late Managing Director, Herb Wegner, to carry on his legacy of innovation, social responsibility and risk-taking leadership.
Congratulations to John, Teresa and Maurice, and thank you to all who attended to celebrate with us! Stay tuned for more event photos.