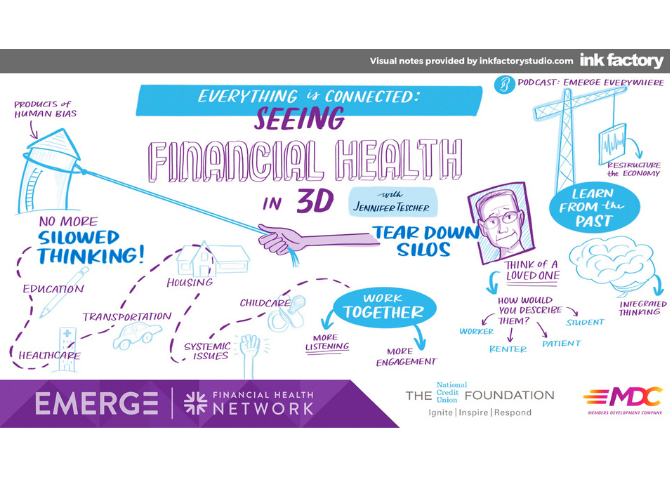 Everything is Connected: Seeing Financial Health in 3D
Igniting passion and knowledge around financial health and well-being is one of the three pillars of the Foundation. As a sponsor of the recent EMERGE Conference from the Financial Health Network, the Foundation is proud to share some of the key topics of discussion in visual form to help inform credit unions of the important topics surrounding financial well-being.
The Foundation understands that financial health and well-being is a journey and that everyone is starting at a different place.  While there are a lot of definitions about what financial health means, from the Foundation's perspective, we use the term financial health & well-being to fully encompass both what folks do with their money and how they feel about their money.
Research has shown us that everything people do is interconnected and if one aspect of life is affected, such as the loss of a job or a health crisis, it can have a domino effect on other areas of their life. As you can see in the graphic above, determinants of financial health are more than just the contents of your wallet and checking account, but your background education, your access to healthcare and transportation and more. Meeting members where they are in their financial well-being journey is essential to understanding how to best serve them and what outside factors may be affecting their health.
When working on financial health and well-being, people can think about what has happened in the past, learn from it, and take those learnings to build a better financial future. To learn more about financial health and well-being or to get started in helping your members along their own personal journey, visit the Foundation's website and access our resources.