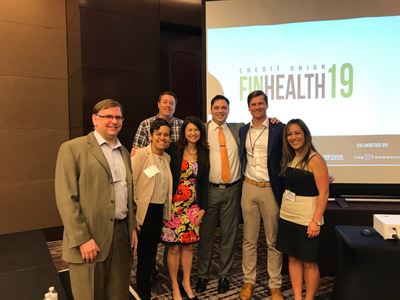 CU FinHealth19 Explores How Credit Unions Can Improve Member Financial Health
Fourth Annual Conference Held in Las Vegas
Ninety credit union professionals gathered in Las Vegas, Nev. for the fourth annual CU FinHealth19 Conference April 24-26.
This conference, co-hosted by the Foundation, the 
California and Nevada Credit Union Leagues
 and 
BALANCE
, brought together leading experts and practitioners in financial health to discuss how credit unions are measuring their members' financial health, working to improve it and documenting the results. The conference also explored the connections between financial health, physical health, technology and advocacy.
"Putting members' financial health at the center of credit unions' strategy is what the CU FinHealth conference is all about," said Gigi Hyland, Executive Director of the Foundation. "We talked about measuring, operationalizing and documenting financial health so it benefits members, communities and drives growth for credit unions. Financial health is the future of credit unions' relevance in the financial services marketplace."
The conference was made up of dynamic speakers, engaging panels and small group discussions. Some of the key sessions and takeaways from CU FinHealth19 were as follows:
State of the Field: National update on FinHealth trend: Helping members to build financial skills on how you find, process and use relevant financial information is key to success. Areas of future focus on financial health include employers, student loans, small businesses, financial coaching and the link between health/wealth.
You've measured FinHealth. Now what?: It's important to start the financial health journey with your employees because helping them to be financially healthy will help them better serve members. Building relationships with members and leading with solutions will also lead to ROI.
"Well That Didn't Quite Work!": Lessons learned from the FinHealth road: The living wage gap is real for a lot of our members so it's important not to judge a member where he/she is in their financial life. We need to work on identifying what the real problems members are facing are, and how to work with them on solutions.
Health, wealth & place: What you can do?: Research continues to show the link between financial health and physical health and several in the medical profession are building medical financial partnerships to "treat" patients with financial health issues. Credit unions are working with their employees to foster their financial health and create a culture of putting members' financial health at the center of their strategy.
FinTech panel: What's happening in the Finhealth arena?: This panel explored innovations in FinTech that impact and affect consumer financial health including QCash Financial and their mobile alternative payday load solution; ChangEd and the "superpower spare change" to pay off student loan debt quicker' and PSCU talking about the link between payments and fintech.
After attending the conference, one of the attendees said, "Huge, thought-provoking panels. The inclusion of the medical/health perspective was illuminating, and I can't wait to dive deeper into this area next year. This conference further fuels our collective 'Why'."