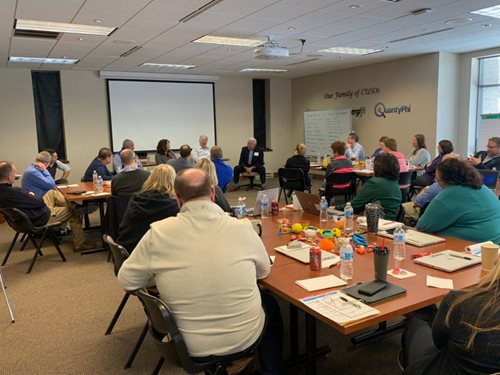 Corporate Central Employees Explore the CU Difference
Originally shared by Corporate Central here.

All Corporate Central employees and employees of Emergifi, InterLutions, and QuantyPhi (Corporate Central's family of CUSOs) recently spent two days participating in the National Credit Union Foundation's Exploring Why™ Workshop – a training that helps employees build their understanding and appreciation for the purpose and value of credit unions.
"This was a really great opportunity and incredibly valuable experience for all of our staff," said Chris Felton, President/CEO of Corporate Central. "We extend our thanks to the National Credit Union Foundation for taking us through the history and structure of the credit union movement and allowing us to better understand how all the pieces work together towards our common mission of people helping people. It's a pretty great feeling to be a part of something that demonstrates such positivity, collaboration, and what it truly means to serve."
President/CEOs from some of Corporate Central's member credit unions served as panelists during a portion of the program. They shared stories from their own experiences and provided perspective from their roles and how their credit unions work with Corporate Central. The panelists included, Shay Santos from Dane County Credit Union; Sue Johnson from Fort Community Credit Union; Steve Janssen from Brewery Credit Union; Steve Nothem from Premier Financial Credit Union; Nicole Christensen-Zabler from Racine Municipal Employees Credit Union; Scott Roesch from Fond du Lac Credit Union; and Daniel Ige from "Golden Rule" Community Credit Union.
Using core lessons from the National Credit Union Foundation's signature Credit Union Development Education (DE) Program, the Exploring Why™ Workshop provides credit unions and system partners with an opportunity to build a stronger connection to their business mission and purpose, and learn how credit unions' unique business models can serve members and communities in new and better ways.
Learn more about Exploring Why here, or email Kalli Shelton at [email protected] for more details.